Waltzing with the Weather down in Texas…
or attending a GREAT South Padre Island Kite Festival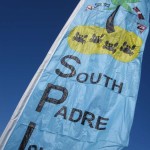 Scotty Weider and I are on a "Kite Road Trip" together. We'd been out a week when we hit Texas, staying a night in Fort Stockton and then tooling on down into Johnson City (of LBJ fame) which is roughly 30 miles west of Austin. We spent a day with AKA Region 8 Director Gayle Woodull, and then I dropped Scotty off at the San Antonio airport for him to make a real quick round-trip home to Rhode Island and return, while I stayed with a kite flier and old pal, Richard Rumbin.
By the time I picked Scotty after his return flight, what had been 60's and 70's and clear sunny skies all the way… had turned downright ICY!
So it was with some trepidation that we ventured down to South Padre Island, a distance of close to 400 miles. Not a huge long drive, but temps in the 20s and forbidding skies did not fill us with pleasant expectations when we were supposed to be going down to a Kite Festival at the very southern tip of Texas.
And while the drive wasn't long, it was a rough one. The last 70-80 miles was through freezing rain, mostly on the back roads because the Highway Patrol closed major highways due to accidents on the freeways. YUK!!! And we're going to a Kite Festival in THIS crap? Double-YUK… but we made it there anyway. And for those of you familiar with South Padre, the cops closed the bridge one way – so we could get onto the Island, but we couldn't get off. The bridge lanes off the Island turned into glare ice, so we were stuck here.
Interesting to note those "tropical" palm trees coated with ice, and the skiff of snow in a couple of the resort's outside doorways. Still – we made it! Then, we spent the evening schmoozing with some other kiters, and then… the power went out in the resort. I was already getting ready for bed when it happened, so I just went to bed. Apparently, Scott was on another floor, so he walked out to the stairwell (elevators don't work) and started down – then slipped on some ice in the exposed stairwell, slid down 3-4 stairs, and jammed his ankle against the guard rail. The ankle would bother him most of the weekend.
Friday, the 4th, was our first whole day on the island and we were soon out and about. We had a tough time finding breakfast because our normal mom-n-pop cafe was closed, probably due to weather. Half of the Island was still without power – fortunately NOT the half that held our lodgings, the Isla Grand Resort.
A nice place (an ex-Radisson property), clean, and well kept, and pleasant.
So we found breakfast somewhere, and a stop at the drug store for an ankle-brace for Weider. Then it was off to the B&S Kite shop – proud sponsors of the South Padre Island Kite Festival. Bill and Susie Doan (hence the B & S) own the place, and seemed quite delighted to see us walk through the door. Oh, the Team iQuad folks were mostly on the island already, but Bill and Susie were a bit concerned about not having enough good fliers to put on a proper festival. And there was considerable concern about weather and how it would impact the crowd, and whether all of the out-of-state pilots could get down here (a couple having already canceled due to the big mid-winter storm).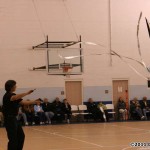 And within 5-10 minutes of our arrival at the shop, Susie received a phone call and promptly burst into tears. Seems like the South Padre Island Kite Festival was chosen by the Kite Trade Association (a national trade organization) as the "Best Kite Festival in America." Good on you, Bill and Susie! WELL DONE people!!!
Anyway, little by little, more pilots and their entourages arrive. Denis Smith and Lisa Willoughby made it in all the way from New Jersey. Phil and Barb Burks from Portland, OR also made it, as did Doug and Linda LaRock from Yakima, WA. Jim and Lynn Foster were in from CA. Of course, Jeff and Donna McCowan came all the way from Harlingen, TX – so some folks didn't have all that far to come.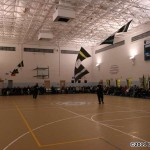 Austin EOL (End Of the Line) were in too, consisting of Eddie Zilman, Jim Cox, Ben Gray, and Mike Boswell. And at least four fliers came in from British Colombia up in Canada – David Hathaway, Steve De Rooy, Willow Robin, and Terry Wiggle who brought his wife Erin along too. And Colleen "Jinx" Baker was in from Wisconsin with her daughter Dana and son Ryan – good troopers all, who have already been on the road for a month. And little-by-little, others checked in too. Chris Schultz from HQ Kites came in on his way back from KTAI, for example. Chris currently hails from the Outer Banks of North Carolina. And the Barresi duet from Portland, OR, John and Takako, would make it in with the help of some rather makeshift transportation arrangements. Anyway, we spent a part of Friday with the Doans, where I bought a couple of kites (as if I need any more). And we wandered the island doing touristy things, and ate a fine meal at some other mom-n-pop place whose name I've also forgotten – good food though, I do remember that part.
Then it was back across the bridge to Port Isabel, TX to the Boys and Girls Club – for the SPIKF Indoor event for the weekend. These Indoor affairs are getting to be very well attended, and Here in South Texas, it was "Standing Room Only." And, in the case of the SPIKF, I might say – Justifyably So! There were some "class" pilots there – putting on a show! And it was "Standing Room Only" there too. The evening's demo pilots included Steve De Rooy, David Hathaway, Barry "Bazzer" Poulter, Lisa Willoughby, Scott Weider, both Jeff and Donna McCowan, Bill Doan (our sponsor – and a pretty fair hand with an indoor kite) and another local gentleman whose name I have forgotten flying a kite Bill Doan made, plus Dennis Smith (the "Voice of The Eastern League") as announcer.
Together in combinations and separately as individuals – that's a pretty "classy" set of pilots, and a group of fine fliers that most indoor events would be proud to host.
Then it was off to an excellent dinner at Cap'n Roy's! I only mention the establishment because the Cap'n serves the most excellent Shrimp Tacos I have ever eaten – bar none! If you end up here by some lucky chance, be sure to stop by this restaurant. The food is all excellent, and if you're particularly, Captain Roy (an ex-shrimper) will regale you with a bit of his home-grown poetry too! A clean, reasonably priced place for great food!
Saturday morning broke bright and shiny – which was a particularly good sign.
Temps were in the 40s when we headed to the flying field just north of the island's Convention Center. As the day progressed, the temps would continue to climb up into the mid 50s too – even better! We thought we were about on time, but gosh was the place mobbed already at about 10:00 AM. Apparently all of the "Winter Texans" decided that a kite festival would be a good way to get out of the motel rooms and condos – where they'd been huddled for the last 3-4 days. Yes – like most of the southern resort areas, South Padre Island plays host to thousands of snow-birds every year or "Winter Texans" as the decals in their rear windows proclaim.
Whatever the reason, I think it was the best crowd I seen at a SPIKF yet. Good crowd, some excellent vendors, nice field layouts, flyable winds, lots of sunshine, and blue skies! Who could possibly complain about anything? Not me! Probably not Bill Doan either! I thought I heard a huge sigh of relief from his direction, but I couldn't be absolutely certain. Anyway, all of his worries about lack of attendance were for naught. Oh, he still had to go through his agonies, I suppose – but it's certainly nice to find that they were completely unfounded.
I'd be surprised if 8,000-10,000 folks didn't stop by the field during the two days of the festival, just to see what was going on.
THE SHOW Yes, these retirement-aged folks DO come out to watch kite flying. They queue up in long lines and sit there like it was an auditorium. They listen to the announcer. They actually pay attention and appreciate what is going on out there on the field. Yup – they brought their lawn-chairs and actually came out to see the show! Actually – they're a GREAT crowd!
And the "performers" respond, too. Jeff and Donna's "Phantom of the Opera" routine was so gorgeous that it was requested a second time. Austin EOL did a positively stunning routine to The Beatles hit, "Octopus' Garden," flying Joel Schulz "Fish" kites – and then followed that up by adding Bill Seward and a fellow we only know as "Doc" (and we'd welcome help with a name if anyone knows it) as add-ons, those two flying Joel Schulz "Shark" kites – all to the music of "Jaws." And Team iQuad of course, with occasional extras, were their normally impressive selves. I watch these folks often enough that I'm probably a bit "jaded" but this team is ALWAYS a delight to see perform. Chris Shultz and his "Warbirds are a crowd-pleaser as well, and then there are the usual individual, and plenty of normal and ad hoc combination, kite exhibitions as well.
The last five years or so has seen the resurgence of quad-line (four control-lined) kites, and a couple of the benefits of quad-line kites is that the basics of flying a Revolution (a kite brand-name) quad-line kite is not that tough – so that the general populace can get into Revolution Kite pretty easily – though outright "mastery" takes considerable practice. But the other benefit of a quad-line kite is it's versatility. It can fly in any direction including hovering, and in any aspect (upright, up-side-down, or even on-end). And that versatility lends itself to much in the way of innovative and creative flying. So the SPIKF attendees probably see about the normal mix of dual-line and quad-line performances. Anyway, enough explanations.
Over on the "Big Kite" field, Doug and Linda La Rock and Phil and Barbara Burks had a couple of big Sutton 454s flying, and Phil had his big rainbow-colored 85′ inflatable octopus out too. And Gayle Woodul and her "Go Big or Go Home" crew had her Manta-Ray and her Red octopus stacked and flying extremely well in rather bumpy and difficult conditions. BRAVO, people! And, of course, there were maybe 6-8 big deltas of various sizes and a fair number of other large kites were doing a fine job of painting the sky.
When I mention "bumpy and difficult conditions" I should point out that shifting winds (changes in wind direction) and "bumpy" winds bother static single-line kites much more than they bother sport kites. Kite lines get crossed when winds shift. Increase and decrease in wind speed (particularly the occasional "lull" in winds) changes the flying aspect of the kites. Anyway, the skies were filled with color and visually interesting kites.
So – being me – I spent the first 2-3 hours wandering around with my camera, banging off the occasional shots, talking with people, feeling the "ambiance" from all of these people. And – quite honestly – it seemed like everyone was having a grand time, or at least an acceptable experience. That's not an unusual thing, but it's always nice to feel that easy "flow" from the crowd again.
And – since I am on something of a "holiday" of my own – I packed the camera away and spent the remainder of the afternoon flying my own kites. I own a couple of Robert Brasington's kites that I'd never flown (actually, I have WAY too many "unflown" kites), so I spent the remaining 2-3 hours in putting a couple kites up and flying, tuning, and enjoying them. But soon, it was time to pack things up and get on back to the Isla Grand Resort to get ready for "The Banquet."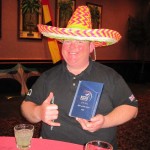 Fortunately for me, the Banquet was also held at the same Isla Grand Resort.
So it wasn't far to walk over to the banquet rooms. The Banquets at kite festivals all have their own flavor, but they give kiters a chance to talk with each other about our sport, to renew old friendships and forge new ones, and to eat together – and usually to participate in a raffle or an auction or both.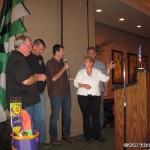 The South Padre Island Kite Festival's "Banquet" fills the ballroom, has a no-host bar, and serves an excellent buffet dinner of mexican fare – Fajitas with all the trimmings. It is easy to let your belly rule your brains after being out in sun and wind all day, so I took too much, and then surprised myself by finishing almost all of it. Good food and fine company. A lovely way to end the day. No – I did NOT participate in the Auction. Too many kites in the auction, and I know my own weakness by now. It was off to my room and bed for me instead (though I WAS tempted).
Sunday also broke bright and clear, and warmer that Saturday, too. A welcome portent since it would actually warm to mid-70s today! Unfortunately, Scotty and I were a bit late getting to the field this morning so we went our separate ways rather quickly, and we only connected briefly a couple of times during the day…
As soon as I got out onto the field, I realized that the winds were AWFULLY light. Well, shucks! I have a kite that'll fly in next-to-nothing, so I went right at it and put my Focus Manta into the air straight away. It took a while of "nursing" that kite into the air even though it's made for those "ultralight" conditions, but we (kite and I) finally made a go of it. Then we worked through the inevitable wind-shifts and changes in direction, and finally attained something approaching "stability" – which is really the best we could hope for.
I flew – and "tended" – the Manta for maybe an hour and a half before the wind increased enough for most other fliers to get their "big stuff" aloft and steady.
Well, heck – I have other (unflown) kites I can play with – which turned out to be pretty much where I spent my entire day!
Crowds? Oh yeah – I had my head up enough to "observe" those anyway. SPIKF had the same kind of ambiance as they had on Saturday, but much less in numbers of attendees. First there was the Church crowd, which we are all used to. And, as expected, we received a sizable bump in attendance around 11:30 AM or noon. But then it dropped WAY off at about 3:00 PM too – JUST in time for the Super Bowl! After all – some things ARE sacred! Church and the Super Bowl – being two of them, I guess. After that, I began to bring the three kites I had flying down and pack them up. Since these were new to me, I had not put them away before, so I had some trial and error time in figuring out how to stow them. They will come out of the sleeves just fine the next time I fly them. Yes – I am "one of those." I must have my kites "my way" or I will repack every single one of them… Of course, even FINDING them is sometimes a horse of a different color.
Well, the SPIKF is over for 2011. It was, once again, a very grand show – maybe even better than last year's event. Tomorrow Scotty and I are on our way to Houston, and on eventually through to Tampa, FL afterwards. But that's another story for another time.
Yup – we had MUCH fun. Yup – YOU are invited down next year – likely the first weekend in February again (right, Bill?). And yes, you can ABSOLUTELY eat magnificent Shrimp Tacos at Cap'n Roy's too. If you're lucky, he will even recite gorgeous poetry for you. Come on DOWN!
Fair Winds and Good Friends –
geezer