March 8, 2011
Greetings from Austin Texas and the Zilker Park Kite Festival! For eighty three years locals have been celebrating the arrival of spring with kites in this huge park.
Susie and I were asked to be on the field at 6:30 to talk with one of the morning news shows live. "How is the festival so far?" asked the reporter. "The festival doesn't start for another three hours", I replied. "It's dark! There's no wind!! Austin is in bed!!" And I quickly added, "But by noon, all of Austin with be here and have kites in the air!"
So how many people were there? Over 20,000. And that doesn't count another 5000 dogs. By 9 am, all roads into the park were closed.
Everywhere you looked there were crowds of people — all wearing that goofy kite flying smile. I can think of only a few events in the country that get so many people participating rather than just watching.
Now, from a serious kiter point of view, the flying sucked. Winds were light, puffy and constantly changing direction. Through the entire day, we didn't have a single kite in the air more than three minutes.
But it is hard to argue with 10,000 happy kids, all running in different directions and dragging lines behind them.
As I said before, Austin has been going on for eighty-three years. The event is organized by the Exchange Club to raise funds for children at risk. Eighty-three years!! It is the oldest continuous running kite festival in the country.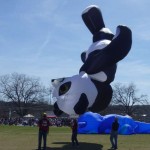 Fun fact — there were more people at Austin's Zilker Park kite festival, than actually lived in Austin when the festival began eighty-three years ago. Pretty cool!
We brought out four big bags and had planned to loft a series of Giant Teddy Bears. But if one won't fly, you can be sure that three won't either. Late in the afternoon, a swirl turned our panda upside down and had him break-dancing on the field. We were done and packed up. Children swarmed onto the open space like water over a dam…
Friday I'm off to California and Kite Party. Hopefully the serious flying will be better. But for sheer mass of kites and kiters, nothing beats Austin and the Zilker Park experience.
David Gomberg