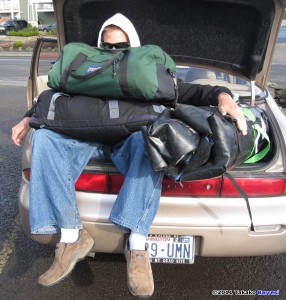 Wow, talk about being buried with work! It's been a busy year for us already having attended events in Texas, California, Washington, Oregon, Nevada and Florida… In addition to these travels, we've just completed the KiteMap.org website (see article in this issue) with the help of Andy Scott and a team of beta testers to help kitefliers with indexing and finding their favorite flying fields worldwide, as well as the work on our bi-monthly issues of the magazine, it seems like we're on to another two projects just as we finish one!
As we put the finishing touches on this latest issue I find myself extremely grateful (as always) for the reporting and articles submitted by our contributors, but am sorely missing such submissions from the east coast and abroad. We'd really love to see reports from Wildwood and other hot eastern events, if any of our readers are headed that way – now is your time to shine and show others what a great time you had, so they come and participate in the event next year… You'd be surprised how quickly 1000 words form up once you start.
I strongly encourage you as organizers or avid fliers, to send us reports and photos from your local events – tell the rest of the kiting world how things are going, what's working and what's not, and most importantly, to showcase all of the wonderful performers and kites being displayed!
Also, don't forget April is National Kite Month – a great excuse to go flying, but even more so, to promote kiting as a environmentally-friendly, family-oriented pastime by getting your local municipalities involved through official activities and recognized events… We're celebrating it here with extra drawings for the official Kitelife subscribers who support our site and make it possible for us to do what we do.
Congratulations go out to Dominic and Patricia Juliano, winners of our April 5th drawing for a brand new B-Series Vented package… And it's not over yet, we have yet another prize to give away to our subscribers on April 15th (tax day) – a brand new "Oh Canada" custom Rev SLE courtesy of Great Canadian Kite Company, it's not too late to sign up, we do regular prize drawings like this for our subscribers!
Last but not least, we're looking for Kite Comic ideas from YOU (our readers) which we can pass on to our cartoonist (Dan Thompson)… Have a funny story or siutational humor that you think would make a good comic? Send it our way, and we'll be sure to credit the inspiration to you if it's published in our pages.
Cordially yours,
John Barresi
Editor/Publisher
Kitelife Magazine
Next Prize Drawing to be held soon!