Not too hot, not too cold ~Soft cool sand between my toes, that's sunny "Isla Blanca" in February.
I arrived in Cancun on Thursday night and sailed through customs. Friday morning found me wandering the markets with Kitefliers and Kitemakers Pat and Russ Mozier, from Florida ~ via Jersey, and Melanie Anderson-Koening from Tennessee.
Isla Blanca Kite Festival We slowly wandered the colorful market place Sporting the BRaND NeW 2011 "ISLA BLANCA KITE FESTIVAL" T-shirt displaying a giant Peter Lynn Octopus flying over a map to the white sandy beaches of Isla Blanca, as well as my very own name tag that read, "Penny."
We pointed to Isla Blanca on my t-shirt and said, "Sabador E Domingo- Gratis para amigos y familial" Spanish for: Saturday and Sunday- Free for friends and family".
"Isla Blanca" is the local's beach within about a 30 min. drive and all of the vendors were familiar with it. Some of the shopkeepers told me, "Oh, you should go to the public schools and the kids will come home and say, "Papa, take me to Isla Blanca Kite Festival this weekend!" Great! My gift shopping was complete and our advertising was a success.
Later that day we ate at our favorite little street café, Don Javier in Palapas park which had kept my mouth watering all year at the thought of their watermelon drink. Then across the street we went to fly in the park. It was a lovely warm evening, with a light breeze blowing over the large concrete patio with a half domed stage on one side of it. Around the edges were food and gift vendors.
We turned on a little music of our own, and pulled out a UFO, a butterfly kite and an Ollie octopus to hand to passer-bys to play with. I flew a Revolution Indoor Kite, but allowed only a select few to try it on the concrete with puffs of 1-2 mph winds. Come to Isla Blanca tomorrow I told them. Now that's how I like to spend an evening and we accomplished a little more advertising.
Saturday morning as we packed kite bags to the curb to be picked up, the cloud overhead started sprinkling. Well, it was the first time I'd ever seen rain in Mexico. So I ran inside to grab my camera and right back outside to find a monsoon, like someone had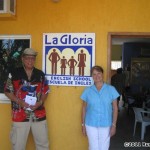 forgotten to clean the sky's gutters, sending down a solid wall of rain. We scrambled to put the kite bags under cover. It stopped after about 5 minutes. Great, the sand would be a little firmer at the beach we said.
But first breakfast at Sanborns where we met up with Paul and Sue Fiebers, who had arrived earlier in the week. They had traveled to Isla Mujeres taking some extra time to teach kite making at the La Gloria English School. Some of those kids came to the kite festival. Isla Blanca Kite Festival
Pat and Sue Mozier, set up their kites with a Mardi Gras theme, all the while educating and keeping us entertained with their stories. Ron and his wife Tina were there from New Jersey bringing duffle bags filled with kites.
Charles and Dorothy Stewart who are the event coordinators invited children from La Casita, the local orphanage. The kids come to the festival and are given a workshop kite, a lunch, and a small toy to take with them. The toys are courtesy of "Give a toy, Get a smile"(r) a small local organization run by Nancy and Andrew Myers. It is devoted to helping families and children. The kids had a great time flying their kites, playing with all of the wind toys, running on the beach, and playing in the waves. As Dorothy said, "It made us all feel good to see them enjoying themselves."
We had large kites, small kites, kids kite making. Morph and Ikarus Kite Boarding Schools decorated the skies. The lagoon side was dotted with kite boarders on the horizon. I counted 23 at one point.
With us were local kite fliers Cira Reyes and her husband Robert. Cira had admired one of Richard and Marti Dermer's large kite arches at last year's festival. This year Cira displayed her own 100 kite arch! It was very impressive!
Russ put up a bear kite which just fascinated one developmentally challenged young boy from La Casita. He played with that bear for over an hour. Rumor has it Cira might make one for next year.
Ron was persistent in putting up his large kites. With wife Tina's help Ron shared tubes, fish and more. A lot of work in strong wind not to mention a short shower or two.
At one point the winds were strong enough to be what we call "chasing and breaking" wind. It was a good time to pull out my Frisbee with the Styrofoam plates made into dove gliders. Taking turns throwing the Frisbee into the air where it popped open and out soared a dozen birds floating far and wide across the beach. The kids scrambled to retrieve them over and over again. Good high wind entertainment.
Pericos..Our very favorite restaurant in Cancun, sponsored the music, and the food for the children and kiteflier's lunches. Marco, the manager, Raul, Silverio, and Alfreda the chefs returned repeatedly for Rev lessons. . It was challenging in the high wind conditions, but they did excellent on Vented Rev 1.5's.
Everyone had fun and just wanted to keep on flying.
Sunday we did it all again, only better. Winds were great. Cira tells me it does not always blow that hard at Isla Blanca, but for 3 years we've had great wind.
Russ told me the fun really started afterwards, as the Stewarts took the fliers to Chichen Itza and Coba with a stop on the way back for dinner in Porto Morelos . Wish I could have joined in. Next year I hope to stay an extra day to snorkel the coral reef.
Something I notice about Cancun is how internationally mixed it is. We met people from all over the world, which is one reason I am writing this article.
People from South Africa and Florida read last year's report in Kitelife on Isla Blanca and decided to join us. Woo Hoo! Thank you Kitelife!
I'd like to add one more note: I work in a job where it is illegal for me to tell someone that a place is a safe neighborhood. That being said, I personally felt 100 % safe in Cancun. This is the most north eastern point of Mexico and unless you go looking for trouble, you will find yourself very welcomed by the people and of course, that is the real reason this is such an awesome growing kite festival. Next years dates are Feb 25th & Feb 26th come on down and help us run the show.
If you're interested in attending, you can find more information and contacts on the festival home page, here…
http://www.letsflykites.com/isla-blanca
Thank you Charles and Dorothy Stewart and all the other hard worker bees who made this happen. We have as much fun playing with you two as we do at the kite festival!
Best Breezes,
Penny Lingenfelter
Indoor/Outdoor Revolution