Doha Finally — and a Fine Event It Was Too!
May 8, 2011
Doha is a sparkling clean, ultra-modern new city perched on the edge of a barren desert. it is the capital of Qatar on the Persian Gulf, bordering Saudi Arabia and the United Arab Emirates.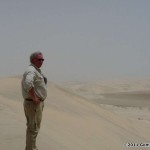 Earlier this year, we'd received a call inviting us to bring a team to the first Qatar Family Day International Kite Festival. Dates were set, rescheduled, cancelled, scheduled again and cancelled. In April, I called Al Sparling and told him the festival was on again. "Want to go??" "When is it??" Does it matter?? They are just going to cancel again…"
I was joking of course, and the event actually came off this week magnificently. "Team Gomberg" included Al, myself, and Jim Martin. Twenty fliers represented China, Korea, Singapore, Japan, India, Holland, and the USA. Newspaper reports raved about iQuad, which was interesting since the team wasn't there. (One magazine called them Team Squad.)
As it turned out, events in Pakistan gave us plenty to think about as the announcement came a mere 12 hours before we were scheduled to leave home. Everyone asked what we were thinking. And the answer is that we did our research, considered the options, and concluded that there were not problems or risks where we were going.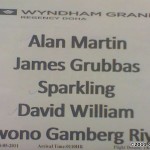 It is a long way from Oregon to Qatar. I flew to Chicago, then Istanbul, and then Doha. With layovers, the trip was about 34 hours.
After a extended trip, it is always reassuring to find someone waiting with a sign when you arrive.
The lift to the hotel was brief, the Wyndham Grand very comfortable, and at 4 am, I settled in for a quick nap before the 11 o'clock press briefing.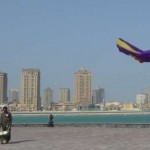 Our flying venue was the Katara Cultural Center — a new complex with exhibition space, wide promenade along the narrow beach, and a wonderful vista of the city skyline. This was their first public event and they felt the 5,000 parking spaces would suffice. But on day one, 30,000 vehicles arrived. Success! Big-time success!
Of course, the winds were coming right over the buildings and it was hot. A 20 mph gust cuts a 102 day down to just 85 with the wind "chill".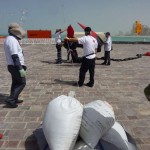 We set up strategically at the outside edge of the beach where it curved away from the turbulence and provided a few yards of flying space. Other international fliers anchored on the sand and flew over the water, or tied off to lamp posts and launched through the crowds. Either way, there were plenty of crashes. Piles of sand bags provided some security for larger kites.
There were estimates of 60,000 guests on Friday and 40,000 more on Saturday. We flew from 3 pm until 10, missing the most intense heat of each day. Thousands of small kites were given away and the promenade was a mass of lines, diamonds, deltas, and running, laughing, screaming children.
At the edge of the pavement, we attached a side line to the octopus stack and invited guests to experience the power of the larger kites. Eighty percent of the population are emigrants, primarily from India. Everyone spoke English. And we were told not to worry about crime, or any other issues. The only instruction was not to take photos of locals in their long robes or veils without permission. And we hesitated to ask.
As the sun set each night, we pulled in the big kites and lofted and LED show into the glowing sky. Ambient light from the city across the water, mixed with desert dust, made for an eerie night-fly.
On Saturday, the winds eased up, as did the temperature. Beach side showers near our flying spot provided shade and relief. Then after a fine group meal, we headed for the hotel and guests began to depart.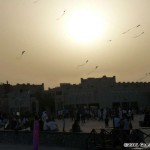 Team Gomberg had an extra day Sunday and opted for a 'safari' to the desert, complete with an hour-long Camel ride and dune 'bashing' in off-road vehicles. Al will enjoy telling you the details. Suffice it to say that these were two of the most uncomfortable things I've done in recent memory….
We were honored to be part of this historic first event. And camel rides aside, we were delighted with the experience and the results. We're flying home now and I'm posting this report from Turkey. The next few weeks include flys in Oregon, Michigan, and New Jersey. See you out there!!
David Gomberg