A gallery of artists in Cervia
Having made kites for almost thirty years, I've come to know what I do well and what I don't. If it's a flat kite that might be memorable years after the first viewing, then I think I can fill the order.
If it's a cellular creation that's never been imagined, I leave it to the experts; Cliff Quinn, Bobby Stanfield, Ron Gibian, or a number of others.
And if it's an exciting free form kite made with organic materials, then Claude Columunga, from France and Anna Rubin from Austria can teach us all a few tricks.
And of course there are the creative flying shapes and images that we've come to expect from Robert Trepanier, who after over 25 years, is still drawing on his diverse experience in art and theater, combining his unique images with the magic of the kite—Claudio Capelli, a fine artist by profession, who never runs out of things to say and express in his art, no matter what the media is he chooses to work, and George Peters, that long lanky creative spirit who continues to share his vision and entertain crowds around the world.
(George has made more artful journalistic documentations and turned them into flying projects than perhaps any kitemaker on the planet).
But the best thing about being around kites for so many years is that when you see something truly exceptional, you recognize it.
And so it was this April in Cervia, Italy, when Alessia Morrocu from Sardinia reached into her bag of tricks. Out came a series of flying wings – I never even asked what she calls the kite! – that took the breath out of me (and, I suspect a few others, also).
Alessia has been coming since she was a child and hasn't let the influences of the world's kite community be lost on her. With a degree in art, she has participated in numerous kite workshops, as both a student and teacher, and has been exposed to state of the art kite making. In 2007, she was chosen to participate in the Paper in Flight Art Kite paper and kite making studio in Japan.
All this experience has been stored carefully and is reflected in the work she does.
At Cervia, she debuted this new creation, her perfectly balanced 'wings', carefully constructed of washi and bamboo, fly on a two-point bridle, but, unexpectedly, the bridles are fixed horizontally at the interior of each wing.
For the kite to be balanced and to perform in the wide wind range that it demonstrated is a testament to Alessia's skill, patience, and sense of design.
They speak and fly for themselves.
Claudio Capelli, his wife, Jovanna, and daughter Caterina, have made Cervia the place to be for artists and their kites. Cervia is always a stage for the world's finest artistic kite creations and Alessia's were not alone this year. Tim Elverston, from Florida, put countless hours on his x-wing, Flow-x kites.
Flown in stacks or randomly, they are a fine sight and like many kites, need to be seen from every angle. I never get tired of watching the flight of large numbers of Ramlel Tien's Sentinels. They remind me of slits in the sky that are about to be torn open by some unseen airborne demon.
Newcomer Trevor Reeves and Bill Farber flew their applique masterpieces.
This was Trevor's first international festival and it will be exciting to watch what he comes up with next. Bas Vreeswijk from Holland displayed his high-quality craftsmanship and continues to try new techniques that facilitate his imagery.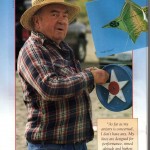 Added to all the great art kites are many of the "headliners" of European kite festivals. Team No Limits, from Germany put on a great show with their "aliens" and with a great, ground-skimming Alien and Space Ship. That's not the best show, though, watching the boys, their wives, and children hit the beach every morning was a great scene.
No doubt there will be No Limits for years to come! Air Banners gave voice to a number of subjects that happened over the week, from the royal wedding to "Happy Easter." Ralf Zimmermann flew his wonderful drachen-drachen, amazing soft kites that are unbelievable feats of kite-making skill.
The delight and need for kite festivals are evident in the innovation and energy of those who create tethered flight. There nothing much better than to be at a site that welcomes and abets kitefliers and flying. For the opportunity to exchange ideas and kites, there is no better forum.
Again, special salute goes to the Italian first family of kiting, whose relentless soulful spirit keeps bringing us back from all over the world each year. The Air Banner scripted it in the sky, "I love Cervia."
Scott Skinner