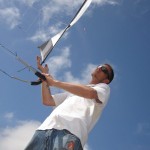 Wow, seventy-eight issues! It always fills me with nostalgia, a lot of memories (both personal and in kiting) in the last 40 issues we've done.
Honestly, I really didn't have any idea of what I'd be getting myself into when I took over the reins from Mike Gillard in 2003 – I had some idea of the work involved, but I especially treasure the way it has helped open my eyes to a wider variety of kiting affairs… Even better than that, has been getting to know so many of the amazing people who are actively promoting and sharing the art of kiting worldwide
As always, we're on the hunt for article submissions from nearly all walks of kiting… Fighter kites, kite making, competition, interviews, educational pieces, you name it, we'll be happy to consider it for an upcoming issue of Kitelife.
We've just drawn our latest subscriber prize, a brand new SDT 2.8 powerfoil from Skydog Kites is going to a happy new home with subscriber #842, a hearty congratulations to Marvin Magcale… And next month, we'll be giving away a brand new B2 B-Series package complete with lines, handles, and DVD on July 10th, so you still have time to become an official Kitelife subscriber if you're not already a member.
Be sure to check out my Kites… Life. column below for some of the things I've been focusing on recently, and in the meantime, we'll look forward to seeing many of you out in the field, on the wind.
Cordially yours,
John Barresi
Editor/Publisher
Kitelife Magazine