Uiseong International Kite Festival
Spring Breeze! Flower Breeze! Kite Breeze!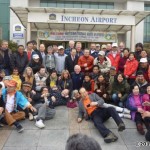 That was the hopeful message that greeted kite masters from around the world when they converged on Uiseong, South Korea, for the First International Kite Festival there. More than 100 guests representing 24 nations were invited. The goal was to celebrate traditional Korean kite arts by expanding the long-running local event into a world-class gathering, a celebration of Spring, and a media extravaganza. By all accounts, each goal was well met!
Pre-festival activities began near the Inchon Airport. Travel-weary friends boarded three buses which were followed by two gear trucks for the dive south. Along the way we stopped at World Heritage sites for a glance at Korean culture and history.
The formal festival began with elaborate opening program including speeches, dancing, and music. International teams marched onto the stage and were introduced to local residents. We then participated in a spiritual ceremony with traditional prayers for good wind and weather.
I was impressed by the detailed organization and strong support from both government and commercial interests. The larger event included musical celebrities, fireworks, exhibitions, and craft displays.
Guests were spread over four small local hotels and transported to a central meeting point for meals and meetings. Our own lodging, as it turns out, was a local "love hotel" which rented by the hour and offered interesting video rentals. I didn't see many couples visiting, but perhaps they used our rooms while we were away on the field…
On the first flying day, we found ourselves on a huge open space along the Wicheon Waterfront. Tents were erected for each national team and anchors provided on the field. Winds were sporadic and dusty and we considered offering stronger prayers for smooth breezes.
At the far end of the field was a "Moon Tower" constructed of a log frame and fresh pine branches. The enormous structure was more than 40 feet tall and we were told it was the largest ever erected. Paper prayers had been attached around the base.
As the flying day wound down, music began and local officials gathered. At the last minute, international guests were invited inside the safety barrier to help ignite the tower. It was an honor, a special experience, and good fun! We sent our own prayers and good wishes up to the heavens, and also were warmed by the giant bonfire.
The second flying day had worse winds, and shorter hours. The bonfire still smouldered at the distant edge of the field. And late afternoon, we departed for the closing banquet.
Following speeches and toasts, I was allowed to make a brief presentation on behalf of the AKA President. I announced that nearly $4000 had been raised by the Association to support kite friends and their families who had been hurt by the recent Japan earthquake. We then sang, danced, and drank together, before returning to our hotels for the trek back toward Seoul.
We enjoyed a final dinner together at the airport hotel, and then fliers separated to pack for the next trip. Most attendees were connecting directly for the VungTau festival in Vietnam. Susie and I were returning to the States, briefly. I had work to do for two days before flying back to Ho Chi Mihn City. Ironically, I'd be changing planes at Korea for the upcoming trip.
David Gomberg