Putting the Wow in VungTau!
April 12, 2011
Imagine a huge crowd, a shrinking beach, and 120 enthused kiters from around the world. Mix them together and shake with above-normal winds. Sounds like the VungTau International Kite Festival in Vietnam.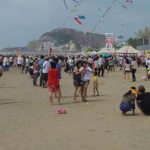 This was my second visit to VungTau and their third annual event. Organization has improved wonderfully in the two years since I'd attended. And the conditions, rather than being daunting, are actually kinda exciting.
The wind comes in strong and smooth off the water. The beach is small. The tide comes in. And people climb all over everything.
Different cultures have different senses of personal property. Here in Vietnam, if you don't want people touching your stuff, don't get it out of the bag.
At one point, An octopus caught a gust and landed on its side. Instantly, fifty people were on the kite, pulling lines, grabbing fabric, laughing, playing, and doing all manner of potentially dangerous and clearly impractical things. Getting the kite back in the air was a communication and diplomatic challenge.
Visiting teams definitely had a regional flair. Along with the local Vietnamese, there were Chinese, Taiwan, Korea, Cambodia, Malaysia, and the Philippines. The USA was represented by myself and Jerry King (who currently resides in China). Vietnamese ex-pats were designated from Canada and England. There was a combined Italian/Brazilian group. New Zealand and Germany were on the beach. Jackie Mountjoy came from South Africa. And Kevin Sanders stood up for Australia (although the program showed him as Austrian).
With limited space, anchors were a daily issue. Cement blocks were hauled down to the waterline and dumped in. Then when the tide peaked, you'd wade in to your shoulders and duck under waves to undo knots.
Similarly, launching large kite meant dragging them out to the anchor, lofting them limp on the line, and letting them rise up over the row of omnipresent beach umbrellas — dripping sand and saltwater as they went.
The show stretched out over a mile of beach for maximum exposure. And on Sunday, the crowds arrived early and swamped us like the incoming waves.
Saturday night was a delightful night show at a local golf driving range. Historical and traditional kites of Vietnam were profiled, followed by an international kite parade. There was music, speeches, dancing, and the entire thing was broadcast on national television.
I was invited to be the "professional English announcer". In a nice development, I was provided with a powerful laser pointer. So when I described a kite or introduced a flier, I could highlight them with a visible green beam and no one wondered which kite was a Cody or a Wau.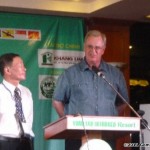 Sunday night we cleaned up for dinner with the sponsors, volunteers, and local officials. The theme was "One Sky – One World".
"What a fantastic event!" I reported. "And what a great message that people from around the world can join together and share the sky in friendship and cooperation."
"When I return home, my friends will ask about this festival. i will tell them that I received a warm and gracious welcome. I will tell them the traditional kites if Vietnam are amazing.
"I will tell them of the thousand of people that came to the beach, and of a great night-fly performance."
"And I will tell them that Peter Lynn is not only a fine kitemaker, but also a very good swimmer!"
I then thanked the sponsors and our hosts.
I'm now sitting in the airport lounge in Seoul, waiting out a 10 hour connection before the 12 hour flight. It's the same run I made exactly a week ago.
I'll be home Tuesday and leave Thursday for Berck. Each festival is a wonderful opportunity to see friends, build experiences, and gather stories. But some days, I'm very, very tired….
David Gomberg