Picture Pretty Kites
Each month we'll be featuring one of the fine retailers who have been so supportive of Kitelife and other areas of the kiting community…The retailers you'll find here are established, proven vendors.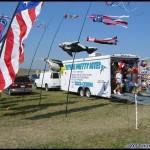 Picture Pretty Kites
6512 N. 44th
Omaha NE 68112
Phone: 1-877-453-4970
http://www.pictureprettykites.com
Floor space:
27ft Trailer
Hours of operation:
24/7 via the web, and at select festivals, events and state parks throughout Nebraska.
Years in business:
21, give or take.
Years advertising with Kitelife:
5
Owner and/or manager names:
Owner: Helen Gorr
Manager of Sales: Jeff Kuhns
Favorite food(s):
Macaroni and Cheese, really, anything cheese.
Last book read:
A legal thriller, but I forgot the name. It was good, but not that good.
Favorite kite web site:
Well, the obvious answer here is pictureprettykites.com, but quite honestly, I find quite a bit of good information, and useful tips as well as tricks from the Prism Kites web site. I also constantly check Kitelife for new and interesting articles.
Favorite flying spot:
Immanuel field, the home flying field of Midwest Winds Kite Fliers (Our local club).
Specialty of the store:
We specialize in personal assistance, and friendly advice. We do not have a storefront so as to speak, so most of our interaction with customers is either at festivals, or events as well as the phone.
Motivation for opening a kite business:
When the shop was originally opened by our founder, Charles Gorr, he opened the shop to provide kites to the Omaha area as at the time, there was no kite shop at all available. Charlie also used the business to fuel his hobby as well, as he was passionate about kites, and the sport.
Most important advice ever received:
Be honest, give the customer the best deal you can, and you will have a lifelong customer.
Best fringe benefit as owner/manager:
The views of all the kites at any festival, or event. It is wonderful to see so many wonderful creations filling the sky.
Favorite issue of Kitelife:
The issue last year covering the annual AKA Convention. I was stuck at my regular job and could not attend. I felt as if I was there at times.