Sept, 2nd, 3rd and 4th 2011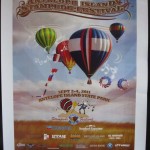 This was my 3rd year organizing the kite part of the festival and it seemed to go somewhat easier this year. Maybe because I knew most all the people coming and they knew what they were getting into played into it. Knowing ahead of time what kind of conditions to expect and the hours we spend out there helps prepare you.
The Field is just that, a field mowed down and located on a desert island during the end of summer. It is dusty, dirty and fun.
With the support of the Planning committee and the local community we have a multi facetted event with many types of entertainment. We have learned some stuff along the way and we have tried to incorporate those things.
So how was Antelope Island Stampede Festival this year? I could tell you all what I thought but that would be one sided, Wow, pretty much sums it up I would say. But let's look at what the others say about this year's event;
Ron Gibian had this to say:
[quote]Often my memories take me back to the first time I found myself in a rental car along with my good friend Ben D'Antonio driving to this supposedly magic place called Antelope Island. Kevin Bayless the organizer had told me much about it months before. We where awed by the strangeness and beauty of this place.
Our first encounter with a herd of Bison and Pronghorn antelope was just the beginning of things to come. As we drove towards the site of the event the landscape became increasingly more interesting until we arrived at a wide open space with literally an entire carnival-fair like setting with every kind of vendor imaginable including food and a soundstage that would rival that of any major concert anywhere. The crowds that first year certainly went beyond my expectations.
We flew kites and shared the space with the balloonists in a very undemanding and relaxed manner, a refreshing experience for me indeed,no schedules, no clipboards just a great time with old and new friends.
The news media was out in force that year trying to capture something that had never happened there before in that format, kites and balloons together, the buzz was high. It has been three years since then and I can say that this event is got some serious legs on it now. It has taken a very interesting vibe of it's own fueled by the guests there and the setting.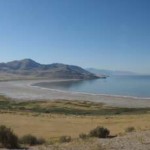 It could easily become the Woodstock or the Willy Nelson picnic of kites in time The evening sunsets are just absolutely magic as we fly kites into darkness to a point where it is difficult to leave the site for returns to hotels.
This years event was spectacular,more kites of all kinds, more performances, better entertainment, great food but ultimately it is the group there that's setting the rhythm this event has taken.
For me it has been great to watch this event grow into the unique experience that it is so far. The event was larger this year and yet it continues to have the very same relaxed atmosphere that I so much enjoy. I will see many of the kite flyers there before the next event but I sure look forward to the time when we can share this very special place once again and see where we take it in 2012.[/quote]
Kevin Reynolds makes an annual cross country trek with his Dad pretty much every year, this year he had additional family with him:
[quote]It's Friday morning before sunrise and we are up and heading out. The plan for the day is to start at a park along Interstate 15 north of Salt Lake City where hopefully hot air balloons will be launched, and kites flown, to advertise the Antelope Island Stampede to the passing commuters. A little later in the morning we are scheduled to do an indoor kite demonstration at an elementary school.
I am traveling with my father, Mike, brothers, David and Chris, and my niece Alexis. We plan to crew for any balloonists that need crew and then switch to kiting as the winds permit. Thanks to GPS and written directions we find ourselves in the still dark park around 6:00 AM and we are the first to arrive.
David gets out some lighted juggling balls and I break out a zero wind kite and the morning entertainment begins. The passing joggers and morning dog walkers appear to be wondering why anyone that isn't jogging or walking a dog would be there so early.
As the morning light starts to filter over the Wasatch mountains, the event organizers begin to arrive followed by the first balloonists, other kiters and local reporters. Simon Crafts and Ron Bohart find an upwind location to color some sky with ripstop while the balloonists gather for their weather briefing.
Listening in, it sounds like conditions are expected to be good for them to fly.
They launch a series of piballs (helium pilot balloons) to confirm the speed and direction of the breeze and eye the kites nearby too. (They are no doubt wondering how the kites can fly when there is just a bit of breeze.)
The balloonists make the decision that conditions are good for launch and everyone sets to work. I offer my assistance to Don and Robyn Stockley for the launching of their balloon Moonshine and they put me right to work unloading the trailer and setting up the balloon. I have crewed a few times before so I let them know what my experience level is and that I won't be doing anything (or touching anything) they haven't directed me to.
We talk a bit as we work and they notice that my event name badge identifies me as a kiter. They are surprised to have a kiter on their crew. In their past experiences at events with kites and balloons the two groups kept to themselves.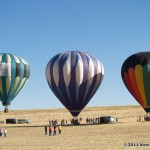 We talk more about how there can be a great symbiotic relationship between kite flying and ballooning at an event – winds that are good for ballooning in the morning often change to favorable kite conditions a little later. I tell them how I can go fly kites by myself anytime and for me festivals are about everyone working together to share the joy of kiting with the public.
By working with them I can extend that concept a little further to share the joy of more flying things for the common good of the entire event.
Soon we have the basket prepared and the Chevron sponsor banner velcro fastened to Moonshine and a pair of Chevron representatives ready for a balloon ride. I man the crown line as the balloon is inflated with cold air from a large fan and then I allow the envelope to rise as Don hits the burners. The passengers climb aboard and they're off!
I help Robyn repack the launch gear into the trailer and jump into their big Ford to go chase the balloon to the landing. (There's not enough wind for me to fly any big kites anyway.) While Robyn drives I use her iPad to study a google map of the area. I am able to tell her which roads will take us in the direction of the balloon and which will leave us with the fun of backing the trailer out of a dead end. I can also see in the satellite images where there are potential landing sites so we can try to get there ahead of Don in the balloon. At every stop along the way we find ourselves telling someone about the big event out on the island – hopefully some of them make it out to see more.
Meanwhile, my family is on the crew of Mike Bauwens new high performance balloon. Mike doesn't have any sponsored passengers so he has crew climb aboard. Somewhere along the way they find an elementary school with space for a landing and passenger swap so that everyone gets to fly. Imagine that you are on your bicycle just arriving at school and suddenly there is the roar of fire overhead as a hot air balloon descends into the school yard, then a blast of the burners again as it shoots back into the sky. A couple of hundred students went home that day with a story to tell!
Eventually Don flies his way to a farm with a large freshly mowed hay field. The breeze doesn't cooperate though and he can't quite get to the hay field. He is drifting toward a field of onions and another of corn so rather than take a chance on damaging crops, he puts it down in a freshly plowed field right across the access road from the hay field. Knowing they would prefer to pack things away in the cleaner hay field, I jump from the truck and run to put my weight on the basket so Don can keep the balloon inflated and on the ground until we have enough crew there to walk the inflated balloon across the road. While running through the field, I find the one spot where the irrigation has created a mud hole – just wide enough for one foot to drop in all the way to my knee coating me thoroughly. Somehow my mud caked shoe stays on as I continued the run.
After packing everything away, we head back to the park to pick up the cars we left behind. Don and Robyn invite us all to join them and the other balloonists for breakfast but I am scheduled for the indoor kite demo and there isn't any time to spare.
The rest of the morning is kite show and tell (and touch too) for the students at Foxboro Elementary School. They are very excited by our handmade kites and really wowed by the indoor flying – more students going home with stories to tell. The other kiters in the demo at Foxboro include Jeff Thomlinson, Willow Robin, Bazzer Poulter, Spence Watson and Simon Crafts.
It was a great morning and a very high energy kick off to a great weekend. I continued to crew for Don and Robyn for the rest of the weekend (and even got to ride twice when the sponsors weren't there). I flew all the big kites I brought and spent some time handing the line of some smaller ones to members of the public too. But most of all, we all worked together to share the joy![/quote]
Nic O'Neill is a free spirited, energy packed power kiter who flies for HQ kites, this was her first year at the event:
[quote]This Labor Day weekend I found myself driving across a thin sliver of land bridging the Great Salt Lake. The smell of brine wafted up from a hazy sun gilded water and thousands of delicate white birds flocked across my path.
My destination: the sunflower covered island out in the middle for the sixth annual Antelope Island Stampede and Balloon Festival. The year before I had heard word about the goings on north of Salt Lake City, this year I was coming as an invited flier. Rumor had it that there was an event that combined hot air balloons, kites, crazy stunts, sky divers, a guy that sings like Neil Diamond, Utah's finest dutch oven cooked meals, and an audience that boasted over 20,000. How was it that this festival had remained a secret for so long?
Unlike other kite festivals, this isn't a kite festival. This is a festival with kites.
Just as many hot air balloonists come from around the country as do unique local vendors, BMX riders and local bands. No one group is bigger or better than other, and while there are camp locations on the field, the boundaries are blurred and you never know if the person standing next to you is a balloon enthusiast, or the guy riding with you in the basket is the top rated biker in North America. This creates a wide appeal to the public who not only want to and gladly interact with the supposed stars of the show, but bring their family back for everyday of the three day event. Plus, you never know when you might see a herd of antelope or buffalo in the tall grass on the hill.
Kite builder and enthusiast Kevin Bayless -who served on the committee- sees it as a free-for-all gathering designed to encourage and enlighten. Fliers are not restricted to fields or schedules, and every flier is advised of the basic rules before they launch a kite. One, have fun, two, engage the public. This begins during the week before when the kiters are brought to several schools around the area to give demonstrations. Nothing makes someone feel proud to be a kite flier like a room of giggling and laughing children.
They don't care that you make a mistake, or when you fall; they don't care if it was a long drive or a late flight. They remind you of exactly why we all fly kites; it's fun, free, and makes everyone of us smile because we feel like children once again.
Out on the field iQuad dazzled the crowd with their routines, Ron Bohart and Kevin Reynolds launched their attention-demanding sky pieces, while Scott Hampton and others filled the ground with a veritable garden of rip-stop eden.
Other kiters took their kites and themselves into the middle of the audience.
Penny Lingenfelter grabbed kids for a Peter Pan adventure while Ron Gibian, Steve de Rooy, Kevin Bayless, and Bazzer Poulter danced their roks over the crowd. They would alight upon the stage amongst the band only to rocket back skyward to paint the sky in brilliant colors. While the 50/50 BMX crew threw trick after trick on their ramps John Barresi and Spencer Watson played about on short lined Rev's. Convincing one of the riders to throw a backflip over John's kite as he passed it in a perfectly timed slide underneath.
Yes, inevitably there were many kite crashes, some line tangles, and at times a frustrating wind, but regardless everyone had a smile on their face. The kite camp was willingly populated early in the morning and it was near impossible to get them off the field and back to bed after the fireworks. Those of us that returned to hotels envied the folks that had chosen to camp on the site. We simply didn't want to leave, and tried to figure out how we could cram eight of us in a two person trailer.
As the event wrapped up the collective feeling from everyone was that this was the best event all year. The camaraderie, the new friends, the jokes, the laughter, the bison, the food, and the overwhelming feeling of love really made this the event that we all agreed to return to next year. I know I will be there.
A special thanks goes to this years sponsors and event organizers.[/quote]
Spence "Watty" Watson, another first year attendee – if you ever get the chance to watch this 19-year-old fly, do it and you'll watch him and his body movements as much as the kite, really a treat…
Here's what he had to say:
[quote]Gearing up for the Stempede Festival in Antelope Island, I wasn't sure what I was getting into, but I knew it was going to be a good trip. With live music, hot air balloons, BMX bikers, and kite flyers, this was not your average kite festival.
The thing that stood out the most to me about this festival was that it did away with the usual kite festival format. The festival was much more loose-weave than other events I have been to. There was no big marked off field, and there were no limitations. The public was part of the festival, and was not held back by a piece of rope. One of the things I was told right off the bad was "Do whatever you want." It is rare that an event organizer tells me this, and it instantly brings a grin to my face.
I spent most of my time at this festival on short lines flying right in front of the stage and the venders in the middle of the crowd. I was able to land on anyone and anything in sight, and often times played keep-away with the kids. Anyone can sit there on 120 foot lines and fly around all day, but when you get into tight spaces with living, moving obstacles, that's when the fun begins. [/quote]
Ron Bohart, a fabulous kite maker from the Portland Area had this to say:
[quote]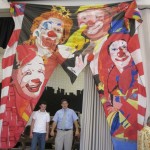 Being a newbie, I didn't know what to expect when I was invited to fly my kites at Antelope Island Balloon and Kite Festival.I was pleasantly surprised by the way everyone who is part of the organizing group worked together to solve the logistical problems that go into an event this size and there are many.
On the Friday before the actual start of the event, several of us were transported to a local park, early in the morning because of the minimal wind, where a group of us flew kites for a small crowd as several of the balloon pilots readied their lighter than air craft for a fly over the Layton Utah suburbs.
Watching the colorful hot air envelopes fill and take to the sky is breathtaking in the early dawn. After the balloons were gone we were taken to one of three elementary schools where we put on a show of indoor kites for the kids. If you have never heard the response from 400 excited young voices shrieking in glee as the iQuad team flew their Revolution kites over their young heads, you haven't lived.
In the afternoon we went to the island where the next two days we would be flying our kites. It's an amazing place. Buffalo and antelope were wandering around through our camp without a care in the world. It is something to see.[/quote]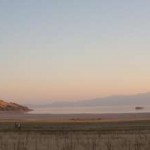 [quote]We were camped on the west end of the island where the sun set over the mountains and threw magnificent colors mirrored off the water of the Great Salt Lake.
The evenings were punctuated with the music from several bands that were playing to the crowd. As the wind settled and the balloons lit up for their night glow we talked into the evening about the day we had enjoyed.[/quote]
[quote]Kite people are an artistic and laid back group that enjoy the moment and love to kid each other and talk about their sport…and talk we did. Fun time.[/quote]
Simon Crafts, the current Grand national Champion kite builder and all around great guy joined us, here are his comments.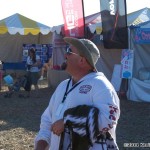 [quote]The good folks organizing and providing us with the Antelope Island Stampede have a good thing going and are to be applauded for their ability to combine a variety of complimentary forms of family entertainment into a neat package in a beautiful location.
As a father of three, I can say there was something for everyone in my family.
From the head-lining balloon launches and glow, to the high-adrenaline BMX demonstrations, to the variety of foods and local "festival style" shopping, the games and activity areas for the youngsters, live music all day for the "young at heart," hiking and exploring the enormous and picturesque Island, and of course Kite Flying with some of the nicest people around.
One of the things that sticks out in my mind is the community atmosphere and the synergy you experience with the different forms of entertainment.
As a kite flyer, it is a unique opportunity to not just be on a sequestered field, but to be a part of a living, breathing happening. The sense of camaraderie between the organizers and staff is extended to the community, making the entire festival holistic and harmonious.
With the stunning vistas, beautiful sunsets, and thousands of smiles, Antelope Island is a unique treat that I heartily recommend – not just to any family, but also to anyone wanting to be a part of the family that is the AISF.[/quote]
As a kite maker and flier attending this event, it was a blast, as the organizer I am so proud to be part of this event and will continue to work on it to grow it and to keep it laid back, fun and above all else, interactive with the people. I want to thank each of the kite people who were there and a part of this year's AISF.
Kevin Bayless
Please visit the official AISF web site for more info
http://www.antelopeislandstampede.com