The best of the best bring it to EuroCup!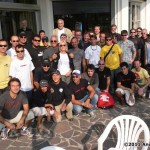 The venue for Eurocup 2012 was Cervia, on the Adriatic coast of Italy, just an hours drive from Rimini or a three-and-a-half hour train ride to Venice. The event was hosted by local kite club Cervia Volante who kindly organised the use of the beach, all the infrastructure and the excellent accommodation.
The absence of several potential favourites (including 2009 Champion Stephen Versteegh from Holland, UK's Chris Goff and Bryan Beesley, and Stefen Briban from France) might have left some folks thinking that reigning Champion Richard Debray of France would have little opposition, though it turned out to be much closer event than many would have predicted. It was encouraging to see tidy and well-rounded performances from Jurgis Pauliukas (Lithuania), Viatcheslav Mischenko and Sergey Chernyshev (both Russia) and Davide Equizzi (Italy).
Eurocup newcomer, Luca Coletto, from the host nation produced three good figures and cohesive precision routine, punctuated with slick tricks which was good enough to keep him in 3rd place overall, despite finding tougher opposition in the ballet section.
Another surprise was Miguel Perez-Senent, a wild-card competitor from Spain. Miguel suffered one poor figure but a lively precision routine and a superbly choreographed ballet were good enough to see him into 5th place overall. Other notable performances included a storming ballet from Laura Mastromauro (Italy) which was enough to confirm her in 4th place and a very tidy set of figures and a polished ballet performance from Steff Fermé for 2nd place. Richard Debray's figures were slightly outgunned but breathtaking precision and ballet routines saw him retain the crown he won in 2010 by a comfortable margin.
In Multiline Indi, the top four places were separated by less than two points after the precision figures section and in the ballet section, the international panel of judges gave six competitors scores of over seventy points for some very entertaining ballets. French pairs partners Maryvonne Clause and Pascal Maire gave tidy performances with Pascal gaining advantage over Maryvonnne who had a hard time with her figures.
Italian competitors Werther Secchi, Alfredo Constantini and Marco Costa seemed to be engaged in a three way battle. In the final shake up Steff Fermé just edged out Guido Maiocchi (Italy) with Richard Debray, who seems to be an equally inventive multiline pilot, taking a creditable third place.
The Dual Line Pairs competition saw a continuation of the long-running tussle between French pair Courant d'Air (Maxime Desavoye & Benoit Flament) and Franco-Italian pair Axel-R (Samuel Roger & Laura Mastromauro). Axel R produced some immaculately matched tricks but it was the superior style and choreography of Courant d'Air which saw them safely home to another Eurocup title. New UK pairing "Phoenix" (Tony Shiggins and Fran Burstall) had been in a healthy second place after the figures and precision but were let down by a ballet that lacked sparkle. Pair y Zomas from Italy had it the other way around with indifferent figures but a ballet routine that was full of good ideas.
Ex-Grads (Keith & Vee Griffiths) from UK produced steady performances to finish 4th in both sections. Athanor (France) flew cleanly but lacked the fireworks that characterized the leading performances. Russian pair Remix gave a capable showing and will have learned a lot from their first outing together at Eurocup.
A disappointing field of just two competitors in Multiline Pairs saw Italian Pair Secchi & Orsi (whose surnames translate, I am informed, as "Bucket & Bears") stay comfortably ahead of French pair Tango Kangaroo Copter by ten point margins in both sections.
A small but select group of three very experienced teams contested the Dual Line Teams title. Competing for the first time in a 4-man line-up, Start'Air (France) were totally dominant with clean figures and a near flawless performance in ballet. Team Flame (UK) were somewhat impeded by the fact that team leader Barry Savell was suffering from a virus and had practically lost his voice, making it very difficult for him to call the team orders.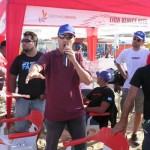 Cream Team (France) had clearly been practicing and gave two very slick performance to put themselves comfortably into second place. At the end of the competition, judge Hans Jansen op de Haar from Holland mentioned that SIEC had received an offer, with sponsorship support, to stage the next edition of Eurocup, but that offer was conditional upon having at least six dual line teams! Food for thought!
The Multiline Team discipline was staged as ballet only. Japanese multiline teams have nothing to fear fears, but it was entertaining. Maybe, with a bit more practice next time . . .
Competition Results
Two lines Individual
1 Richard DEBRAY — FR
2 Steff FERME — FR
3 Luca COLETTO — IT
4 Laura MASTROMAURO — IT
5 Miguel PEREZ SENENT — ES
6 Davide EQUIZZI — IT
7 Viatcheslav MISHCHENKO — RUS
8 Jurgis PAULIUKAS — LI
9 Sergey CHERNYSHEV — RUS
10 Antonis LUMIOTIS — GR ,DNF
Two lines Pair
1 COURANT D'AIR — FR
2 AXEL'R — IT
3 PHOENIX — UK
4 EXGRADS — UK
5 PAIR-Y-ZOMA'S — IT
6 REMIX — RUS
7 ATHANOR — FR
Two lines Team
1 START'AIR — FR
2 CREAM TEAM — FR
3 FLAME — UK
Four Lines Individual
1 Steff FERME — FR
2 Guido MAIOCCHI — IT
3 Richard DEBRAY — FR
4 Marco COSTA — IT
5 Alfredo COSTANTINI — IT
6 Werther SECCHI — IT
7 Pascal MAIRE — FR
8 Maryvonne CLAUSE — FR
Four Lines Pair
1 SECCHI & ORSI — IT
2 KANGAROOTANGOKOPTER — FR
Four Lines Team
1 TEAM PER CASO — IT
2 SNUFF — UK
3 T.S.F. — FR
Overall, great multilingual camaraderie, great weather, many new faces among the competitors including representatives from two nations new to Eurocup, so hope for the future . . . a rebirth . . . perhaps we might call it an Italian Renaissance!
Andy Taylor
(STACK International Head Judge)