It's that time of year, time for holidays and celebrations! Whatever you celebrate, we wish you and your loved ones the best. The perfect gifts can be found in the AKA General Store. Top quality clothing, jewelry, bags, hats and more are available with the AKA logo and your name at no extra cost. Go to www.aka.kite.org/resources/stores/gstore.
Or, find Santa on the front page of the website. Don't wait until the last minute, order this week! There's no stock, we supply exactly what you want. By the way, our supplier is also a kite flyer and AKA member.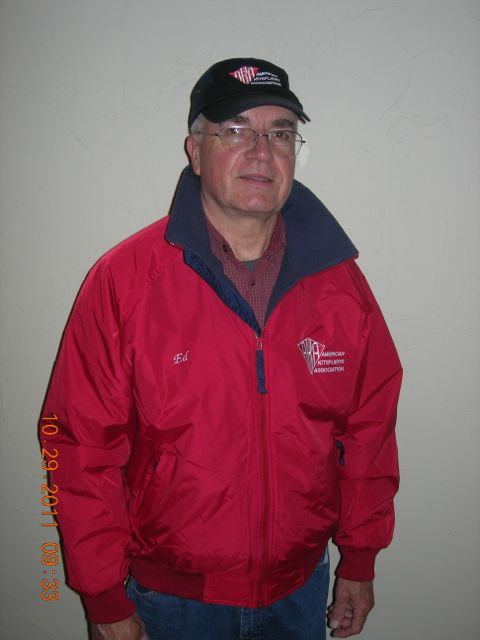 "Christmas Is Coming", and if your looking for that warm winter gift, the AKA General Store is the place to find it, just like Ed Grys found his jacket and says, "It's wonderful"
The Store also has, fleece scarf's, several choices in hats, fleece vests and fleece headbands to keep your ears toasty warm.
Remember, you can have most items personalized with your name embroidered on it.
What about adding a workshop registration fee to your wish list? Whether it is the Oregon Kitemakers Retreat or U-Make in January, Maryland Kitemakers Retreat in February, Kites over Pere Marquette or Fort Worden in March, or a local club event, this is the time to improve your kitemaking skills and share a great time with friends. Most of these have easily found websites, or drop me a note and I'll point you in the right direction. Actually, my plans included attending 4 of the 5. See you there!
I'm happy to report that in addition to all the fun that was had at Wildwood, a profit was made. Originally the budget was based on 175 attending. Final attendance was almost 217. Thanks to all of you for the difference.
Convention 2012 will be held in Enid OK starting on September 26. Hotel rates start at $78, registration will be a bargain. Fields at Autry Technology Center are HUGE! Fly into Wichita KS, Oklahoma City or Tulsa. All are about 100 miles or an easy (fast) drive away. Reserve your vacation days today!
The site search for convention 2013 is in full swing. So far we have interest from several west coast locations including Berkeley, Lincoln City and Seaside. Proposals will be accepted until March 31. The board will choose at the April meeting. Have a location in mind? Drop me a note and the site requirements will come your way.
After 10 years, Cameo Management led by Maggie Vohs has decided to refocus their business and no longer work with the AKA. Their dedication, skills, and hard work have helped every one of those conventions to be a success and almost all to make money. Please join me in thanking Maggie & crew and wishing them well in their next stage of life. Their last day will be December 31, 2011.
What does this mean for the AKA? We have depended on a convention manager for a long time. Luckily, all the contracts for Enid are in place. Instead of rushing to duplicate the position, we will be taking this opportunity to evaluate just what we need an events manager to do, what can be done by other contractors, and what can be done by volunteers.
As of January 1, I will be the person to contact for the issues that Maggie dealt with. The help of many people will be needed to get us thru this next year. Somehow we will do it and come out better at the other end.
Take some time to explore the AKA website. Now there are coloring sheets based on an art kite calendar, quizzes and puzzles, more digital kiting, kite history.
Did you know that you too can add articles to the website? Log in, go to ClubHouse, submit web article. We'd love to have more! Don't worry if there is no category listed that applies to what you write, new ones can be created.
Until next year, it's time to fly.
Well, actually go make Fled kites with the Minnesota Kite society.
I love to hear from you. Yes, even if it is a complaint. Send those messages to president@aka.kite.org
Barbara Meyer
AKA President