People often ask if this is our first trip to Cape Town. They seem surprised when we say "no". But then we tell them we are part of the international kite festival here. And it surprises us how many people in this large, cosmopolitan city know what we're talking about.
"Cape Town" is now 17 years old. It is the largest kite festival in Africa (which is not a huge standard) and enjoys one of the most effective and broad-based media and public relations programs of any kite event I have seen (which is high standard indeed).
The festival is organized by Cape Mental Health as a fund raiser and an awareness raiser as well. CMH argues that kiting is a positive and uplifting pastime that encourages psycological well being. Susan and I are pleased to serve as patrons to the event.
A few days before the formal event, kiters travel to Khayelitsha, a township on the edge of Cape Town. We visit children in the CMH facility there and then do a flying program in Peace Park. The township is a dusty, windblown expanse of shacks and cinder block homes, and the "park" is little more than a pasture with two soccer goals and a non-working toilet.
Township Fliers Township Fliers Township Fliers
Unemployment exceeds 40% and the kids we meet are mostly from single-parent homes. Disabled children here face challenges that are beyond my comprehension. But for a while, flying kites here put smiles on everyone's faces.
I'm not sure if the day is more rewarding for the kids or the kiters.
The more formal festival is held in Muizenberg, a coastal resort half-an-hour from the city. There is music, food, crafts and educational programs. About seven thousand people each day pay $2 to get in.
A children's program in local schools has students decorate kites and then bring them to the event to be assembled into arches.
There is also a "traditional" kite competition which generates designs drawn from South Africa's fascinating background as a trading port with populations from Europe, Asia, and India. Sunday afternoon, a corporate rokkaku battle is scheduled.
There is no designated sound system for the main field and none of the flying demos so prevelant at other events.
And throughout the weekend, the press is relentless. I do two radio shows, a spot for a comedy/education program, news report, countless print media photos, and even a segment for a reality show featuring the winner of African Idol.
Over the past few years, an increasing number of international kiters have signed on to attend (at their own expense). This year we have Germans, Brits, Balinese, Americans, and a respectable collection of South African kiters.
Susan and I have brought our whales and the Safari Series of elephants, zebra, giraffe, and hippo.
Flying conditions are challenging. Winds are coming off the land and over the hills rather than from the water. And it is blowing hard.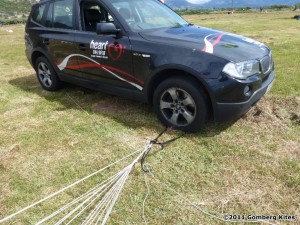 The anchors provided are 50 pound bags of sand. I loop straps around several and use them for the medium kites.
For the larger pieces, I borrow a vehicle from a sponsor and slide the strap around the base of a tire. This system looks tenuous, but I've been using it several years with success.
By early afternoon Saturday, gusts are blasting into the thirties and most kites have been pulled down.
Susie Takes One for the Cause…
On Thursday, Susie was a celebrity in Khayelitsha, as the news covered her working with local kids from the Cape Mental Health facility.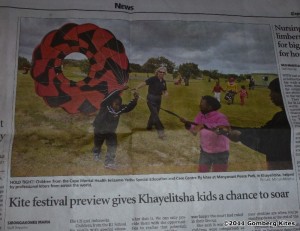 Saturday, she was a celebrity again, with a full photo spread on page three.
The winds were somewhat extreme, gusting up over 30. Most of the kites were down and the kiters under cover
The festival is a fund raiser and awareness project of Cape Mental Health — a group we are most supportive of. So when another news photographer came onto the field, Susan rallied and pulled out one of the smaller bols to give him a shot. I was trying to inflate a whale a few feet away. From what I can tell, the wind began to drag her anchor. Susie stepped aside and instinctively did the right thing, grabbing the edge of the fabric to deflate the sail.
I turned around and the bol, the 50 pound sandbag anchor, and Susie were tumbling downwind. When they stopped, she didn't get up….
Fortunately, she was conscious and not in pain. But something was clearly wrong. Several first aid responders arrived immediately and immobilized her arm. We went directly to a local hospital where x-rays confirmed the shoulder was dislocated. Susie was sedated and then the physicians stretched the arm out and pulled the shoulder back into place. No pain for my wife, but I was traumatized just watching! A second x-ray confirmed the repair worked.
And of course, the photographer caught the entire thing on film….
She is wearing a sling for the rest of the trip and on medication for the soreness. And she is not happy. But fortunately, she is ok and this is not a permanent injury.
BIG thanks to the field first aid staff, to the festival volunteers that took us to the hospital and waited for us there, and to the kiters who picked up all our gear.
Susie is a trooper and always willing to go the extra mile for a host or good cause. In this case, the extra mile was about 20 feet too far….
Now that the festival is over, the winds have abated and the weather is perfect.
We've just wrapped up two relaxing days in Cape Town. Tomorrow we fly to Jo'beg and than on the Krueger. More on that next week.