New kites to look out for…
The SuperFly
After working with Carl Robertshaw for many years, we've been wondering if "le petite phenom" Chris Goff would start producing his own high-end kites… Well, wonder no more!
The SuperFly Teaser from ChrisGoffKites on Vimeo.
Per his website:
After over 8 months of development and countless prototypes the SuperFly is finally ready for sale. After winning the European trick championship in Stella plage you would have thought that the SuperFly was ready. But such is the search for the feel and control Chris was after the kite took a further 4 months of solid daily flying to complete. Throughout the development of the SuperFly Chris worked alongside flyers of all skill levels to make sure the SuperFly wasn't just a kite for top level freestyling, but a kite approachable for all to learn and develop their own freestyle flying.
The SuperFly is a true boundary-pushing kite. With one of the widest wind ranges of any kite available on the market. The SuperFly flies beautifully in light winds without feeling a handful when the wind turns the pace up. In high wind the light feel stays and when compared to other kites the pull is significantly lighter. Meaning you can keep flying without the need of a vented. This also helps the SuperFly work well in competition situations.
Chris Goff: "I've learned more flying the SuperFly than I have on any other kite in years, inventing new tricks and sequences almost weekly. The ability to fly absolute freestyle using the highest level tricks has given me the freedom to really push my flying up to the next level. Spending weeks flying the prototypes daily let me look at every detail on the kite, making sure every reinforcement is functional and simple, and that nothing takes away visually from your flying. A key aspect for the SuperFly was that it would be able to be picked up by flyers of all different skill levels. I wanted the sail layout to nod to the kites of old, keeping the overall appearance simple and effective so that the SuperFly stands out on a kite field. Its been a long project but the feeling and connection I get while flying the SuperFly makes all that time worth while. It's a kite I'm really proud to have created. "
The trick-enthusiast buzz around the SuperFly is some of the most excited we've seen in a while and with Chris' track record as both a pilot and designer, it's no wonder… With a beautiful website that was dramatically launched on 11-11-11, the buzz continues.
For more information about Chris' activities and designs, visit – http://www.chrisgoffkites.com/
The Solus
Another newcomer for late 2011 / early 2012 is the Solus by Skyburner Kites… A joint design venture between Jon Trennepohl, Devin Cobleigh-Morrison and Wayne Brunjes, this kite has also gained a quick following among hard core trick kite fliers.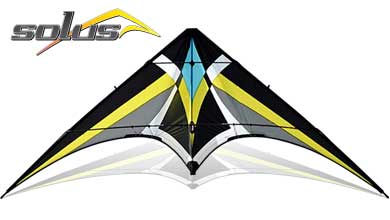 Per the Skyburner website:
An Old School kite with all the new tricks, that moves more in the direction of a team kite. It handles higher winds with less pull and requires smaller inputs for such a large kite.

The Solus is built with the exceptional quality and craftsmanship that you have come to know and expect from Sky Burner. The sail is sewn with great care and precision, as with all Sky Burner products, along with exceptional strength. This is the first kite from Sky Burner that has seem taped panels. The design of the panels come together with the sleek styling of an exotic sports car. Built with an unbelievably tough Sky Shark carbon frame, this is a Kite built to endure.
While both Jon and Wayne are long time expert kite makers and pilots, Devin is certainly from the "new school" of kite flying and the marriage of both areas of experience clearly shows in this latest design.
---
Focus kite designs, coming back?
With a very popular line of kites including the Skate (indoor / zero wind glider), Echo (indoor dual line) and Hydra (outdoor trick kite), Paul DeBakker and Hunter Brown had developed a popular brand with Focus Kites during the past 3-4 years, but demand and the toll of making each kite by hand between two people finally took it's toll and Focus Kites closed its doors early this year.

However, the rumor mill has been going strong about a rebirth of Paul's most popular designs!
Here it is, straight from the Paul himself on the GWTW forum…
Hunter and I worked really well together since we came up with Focus in 2006 but with me moving out of the NC area in 2010, things got really difficult to accomplish from a logistical perspective (read; we couldn't get kites to people anymore). We tried to have production secured via a third "made-in-the-US" party and that ultimately didn't work out, to put it mildly.

So, more than a year later, after (in addition to the geographical Focus challenges) a year of big challenge for me personally, we have "officially" stopped our cooperation. What practically already hadn't happened for a while was now confirmed; the original Focus set up has ceased to exist. Technically though, Focus is not gone. Hunter owns the sole rights to the name and if he chooses to continue, power to him! I hope he does. We both are proud of the kites we made and the things we achieved in only a few short years.

As for myself, as Stephen already said, there are some things in the works as far as former Focus designs are concerned and I am very active at the moment working on new stuff. After a VERY mediocre year from a personal and kiting perspective, I am stoked again, flying more often and working on new designs.

Not much more to tell at this point. Suffice it to say that, for what it's worth, I am actively working on getting former Focus kites produced and getting new designs on the market. Also, I will be putting more effort into getting new fliers into this crazy, great way to spend time as both from a commercial as well as an organizational perspective, I think we can use some new blood.
So, nothing is set in stone at this time but it looks like there is strong interest from both Paul and kite fliers at large to see these designs available to the general public once again… Here in the Kitelife offices, we'll be rooting for Paul's success.
---
Virtual Freestyle, website overhauled!
This popular online sport kite competition format is going strong, and has released a new good looking site that is easy to navigate with links to both current and past VF rounds, video downloads, and anything you could possibly want to know… Round 21 is now in progress, some folks say it's the best one ever!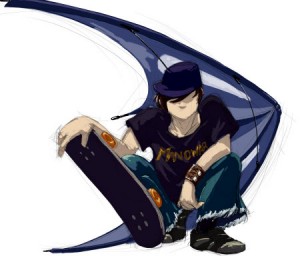 Visit them now – http://www.virtualfreestyle.com
---
West Coast Rev Clinic V, full class!
The WCRC will be in it's 5th year for 2012! Held in Long Beach (WA), traditionally in the last half of May… Registration opened on November 7th and tickets were already gone by the 12th, totally gone within just 6 days of going online!
http://www.teamiquad.com/schedule/west-coast-rev-clinic
A full class of 30 students will be joined by least 6 instructors on the beach for 3 days of discussion, skills training, team practice and one on one coaching… This event is sponsored by Kitelife.com, World Kite Museum and The Kite Shoppe.
We've had attendees come from as far away as Canada, Utah, and California, but this year we even have a student coming all the way from South Africa… With so many folks interested, it looks like we might very well be exploring another Rev Clinic in May.
You can stay up to speed on upcoming Rev clinics and events through these sites…
http://www.revkites….pcoming-events/
http://www.teamiquad.com/schedule/
https://www.facebook.com/iquad
https://kitelife.com/forum/calendar/
For avid kite fliers who want to learn, there is nothing like joining up with other knowledgeable fliers!
If you're interested in attending a Rev Clinic this May in Long Beach, please send a note to iQuad.
---
Gomberg books are online!
While some hard copies are still available, GKPI has made these publications available for free in PDF format, for the time being anyway… Check it out while you can, some classic, useful stuff in these books!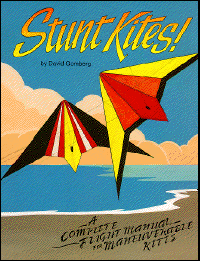 First published in 1988 and revised annually until 1996, Stunt Kites! sold over 100,000 copies.
This is our complete introductory manual for sport kite fliers. It includes sections on basic flying techniques, wind, introductory maneuvers, tuning and competition along with advice from two dozen of the best recognized flyers on the US circuit. A generation of kite enthusiasts called it "the Bible".
We now offer Stunt Kites! as a free download on a limited test basis. The contents are dated, but still useful. Let us know what you think.
Read it in PDF format – http://www.gombergkites.com/howSK.html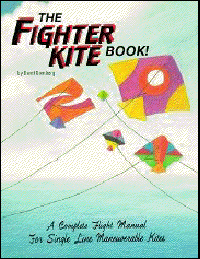 Published in 1992, The Fighter Kite Book is our flying manual on single-line maneuverable "fighters" and rokkakus. It contains basic flying instructions, sections on wind, flying line, tuning, and competition. Several dozen international experts are quoted throughout the book.
The FKB includes instructions for making your own basic fighter. And if you are into competition, there is a full chapter of tips and techniques. We now offer The Fighter Kite Book as a free download on a limited test basis. Let us know what you think.
Read it in PDF format – http://www.gombergkites.com/howFK.html
Published in 1996, Sport Kite Magic! was a more detailed manual than the classic Stunt Kites!. It included instruction on flying all of the compulsory precision maneuver including hand positioning and performance enhancing tips. It outlined three complete sport kite ballet routines and information on how to develop your own. SKM offered early tutorials on trick flying. And it concluded with the first published outline of indoor or no-wind flying.
We now offer Sport Kite Magic! as a free download on a limited test basis. The contents are dusty, but definitely not out-of-date. Let us know what you think.
Read it in PDF format – http://www.gombergki…com/howSKM.html
---
The new format for Kitelife…
So this is our first new issue in the new forum format and to be honest, I'm finding it really odd to be inputting my content here after eight years of drafting and laying up content in static web pages… It's odd, but it's also so nice for me on a great many levels.
Here is a recap of the last message I sent out via our email list:
Quote
For a while now, our site has operated with TWO main areas… The "front end" with our ezine archive or informational pages (about us, links, etc) and the forum (discussion and downloads).
This has it's drawbacks on our side such as two different systems for maintaining content and the need to manually update the front end's HTML aspects, as well as the natural division it created for our visitors by way of two different layouts and sets of functionality/navigation, as well the inconvenience of two separate search engines.
After some discussion with our few loyal forum users, I'm pleased to say that we've spent a considerable amount of time beefing up the forum over the past week and a half, starting the process of condensing all our content into the forum system.
Here are the PROS for having everything under the "one roof"…
On your end:
Single login for all content
Single format/layout, no divide between forum and ezine
ONE search engine for ALL of our content
"View New Content" link, see what's new since your last visit
"Similar topics" listings at the bottom of each topic
Ability to comment and add to articles via replies
Ability to "follow" sections or articles for notification of replies
Ability to "like" posts, similar to Facebook
Ability to rate articles (1-5 stars)
Ability to search by "tags", or key words
Ability to contact authors directly
Full sharing ability (Facebook, Twitter, Google, etc)
On our end:
Easier organization and editing through one admin panel
When we move things, the system tracks it (no broken links)
Site upgrades won't require massive reformatting or relinking
No need for HTML software, all we need is a web browser
Ability to assign staff permissions (editing, addition, moderating)
Automatic thumbnailing of images (HUGE time saver)
Ability to link additional photos in the gallery system
Ability to cross-link related content in different areas
Experienced authors can add their own content
Notes:
We will still release "issues" in batches (bi-monthly) – don't worry, we are NOT switching to one-at-a-time (blog) articles.
The only downside for us is less versatility in formatting the articles (tables, image borders, etc) but we're quickly overcoming this hurdle with more practice and the addition of plugins that are available for our forum software.
Most of all, I LOVE the fact that our visitors will be able to INTERACT with ALL of our content interchangeably, via the single forum login… Community, discussion, instant feedback.
We've already copied issues 1-5 into the new format and will be working forward one issue at a time until we catch up with our current issues… Please pardon our dust in the meantime, and the next issue(s) will be produced exclusively in the new format so that we can complete the archive in one place and eventually phase out the old site.
Ultimately, the magazine issues might not be as pretty (i.e. faux magazine pages), but the functionality on both sides, overall ease of use and the ability for our visitors to interact with everything will be well worth it in the end… It's a new layout for some of you, but given a couple of passes through, I'm 100% confident that the changes will grow on the majority of our visitors.
New main page – https://kitelife.com/forum/
---
Added features YOU can play with…
With the forum system and plugins we've been able to obtain for it, you'll see a wide variety of content in the single navigation menu.
Highlights include…
Gallery – https://kitelife.com/forum/gallery/
Our searchable, staff and user driven photo galleries.
Videos – https://kitelife.com/forum/videos/
Our searchable, staff and user driven video repository – simple to use, just add a title, a YouTube/Vimeo link and a description, that's it.
Downloads – https://kitelife.com/forum/files/
Our searchable archive of video tutorials, sport kite performance videos and out-of-print publications in PDF format.
Calendar – https://kitelife.com/forum/calendar/
Our searchable calendar where folks can browse or submit events with ease.
Links – https://kitelife.com/forum/links/
Our searchable links directory where visitors can browse or ADD useful kite web sites.
Search – https://kitelife.com/…e&module=search
Sensing a theme? Yes, search for whatever you want, wherever you want, with the all-in-one search engine… Articles, forum postings, photos, videos, downloads, links, you name it, all accessible through a single search tool.
When you search for something, it first lists the results for the area you're actually in (say the forum), and gives links on the left to flip through the other parts of the site (videos, links, etc) for the same search terms, same deal with the "View New Content" function as well… And lest I forget to mention, you can also narrow your searches by author, date or forum section.
In the very near future, I'll be putting together a few YouTube videos showing how visitors can use and navigate the site, just to really show off the capabilities and demystify things a bit.
Really, I think you'll be amazed at how easy and powerful it is to use after you get past the inital shock of our new look.
That pretty well sums up the recent changes and what we'll be doing in the future, it didn't make much sense to re-type all.
---
Going retro…
An even stranger experience for me, has been going through the old issues and bringing them over TO this new format… It's given me the opportunity to read through some material I'd never actually seen, a lot of history from friends long since passed, and a glimpse into the kiting scene as it existed during my supposed retirement from kiting in 1998 and 1999.
It's really bittersweet… On one hand, I'm a kite buff through and through so it's been very stimulating, but on the other hand it's also strangely depressing to read about so many brilliant and active kiting proponents who are no longer with us for any number of reasons, and the "glory days" I remember so well – definitely a thing of the past.
At the heart of my feelings though, is a great pride at being able to keep this kind of history alive and accessible to new generations of kitefliers… The old magazines like Kite Lines, American Kite Magazine and Stunt Kite Quarterly were certainly more professional and polished, while it seems to me that Kitelife has been more a "voice of the people", something I'm sure our illustrious founder (Mike Gillard) would agree with if he were still with us today.
---
Never ending…
Since I took over the reigns in 2003, it seems like Kitelife has almost always been in flux… We've changed formats (now) 3 times, had the older sites hacked twice (one of which required a total rebuild), we've experimented with several multimedia (video/gallery) offerings and other things… Mix in nearly 4 years of that to scan, clean and archive both the entire Kite Lines and Stunt Kite Quarterly collections in PDF format, juggle a very busy team schedule (with iQuad), various kite design projects and so on, the Kitelife site has never actually been finished (not including our always upcoming issues).
With the new format and operating everything under one roof (system-wise), I hope to be able to dedicate more time toward NEW projects as opposed to restoring old ones… In the meantime, I hope you'll pardon our dust and support the efforts.
---
It's your kite world…
Given the fact you can now reply to all our articles, I hope you'll do so… Share your thoughts, add new information or media, even constructively challenge an idea – that's what it's all about, compiling a community resource for fliers new and old.
Well, I'm back to the grindstone for now – enjoy your visit(s) and hit reply if you'd like to comment!