The year is finishing, what to do from here?
EVERY year, I dread this particular edition of Revisions. Without fail, it strikes fear into my monkey heart and I delay on it and delay on it, hoping to come up with some manner of a coherent idea to float a column on. Why you may ask? Simple. It's the WINTER DOLDRUMS EDITION! Typically, once Lincoln City's Fall Fest ( a blast as always! ) wraps up, I am pretty much eventless until South Padre Island rolls around at the beginning of February. Nothing. Nada. No festivals, no events, no flights to exotic lands (such as Grand Haven in May…) and the worst part of all, cold weather.
In the Pacific Northwest, we are blessed with a somewhat mild winter for the most part. While much of Canada digs out from under the snow for most of the winter, and grand swathes of the US do pretty much the same thing, we here in Lotusland really don't get an awful lot of snow. Sometimes, sure, and sometimes, very heavy snow but, in general, you can survive the Northwest without putting snow tires on your car. But, that doesn't mean it still doesn't get pretty darn chilly. Which, isn't very conducive to good kite flying, or, at least, "enjoyable" kite flying.
That being said, there is ONE "mini" event every year around this time, the Annual Snow Queens Rev fly, held right here in Vancouver, or more specifically, Steveston, a chunk of Richmond. We do it every year now, despite only ever having actual snow the very first year. But with a little luck, the pond will be frozen again so we can skate some Revs across it. As I glance at the weather forecast for the upcoming weekend (which is mere days away, I told you I left this to the very very last minute…) it looks like we very well may have some ice on the pond! Hoooray for that!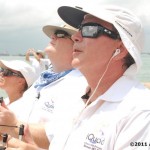 Ok, so, now I'm back to being out of events for the winter. So, what do I do? Besides twiddle my thumbs? I think about the year that has gone by, and the year that is to come. While iQuad did a "few" less events last year, I'd be hard pressed to call it a dull year for us. We managed to notch up 100 festivals in 5 years, culminating with a celebration in Bintulu, Malaysia, as part of the Borneo International Kite Festival. We put on a couple more great clinics (Singapore, and the ever popular March one in Long Beach Washington). We taught people, we showed people what's possible with their Revs and, we learned from others what is possible as well. All in all, I'd call it a great year. We made Willow Robin a full time member of the team, demonstrating just how far one can go with their flying when they put the time and work into the skill set.
And for the year ahead, more of the same looks to be on the menu. We've already sold out the Rev clinic in Long Beach for mid March (wow, the quickest sellout of that clinic ever, it was full in the stretch of a few days, thank YOU, I can't wait!) and we're mulling over what events we will get to in this coming year. WSIKF is a given, that's for sure. Antelope Island, Brookings, Pacific Rim, those are ones we know we'll be doing in some configuration but we usually don't nail down specifics until January at the earliest.
Given John has managed to move all the articles to a new flashy format, starting with this issue (and be sure to check out the old back issues he's been bringing back online as well, there is a treasure trove of inspiration, ideas, and great pictures!), let's try something with the new format. Since you can now all comment and post regarding any article that's presented, what would YOU the loyal readers of Revisions like to see addressed in my next issue, slated for February 1st, 2012? Let me know and I'll deal with the most popular questions and ideas.
Until then, chilly breezes in the Northwest!