Suppose you're walking in the rain with a loved one, under an umbrella – but then the clouds break, wind comes up and sun shines through.
Now what's a hard core kiteflier to do… Caught without your gear…
Well, what if you DID have a kite cleverly disguised as something else?
That's what this unusual design collaborated by YuKwang Kang and Jinsu Cho proposes!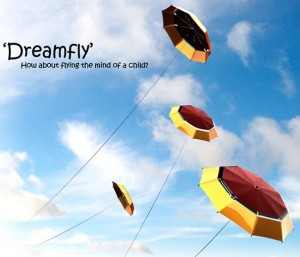 Per the website we found this on:
The Dreamfly is for the sheer joy of a carefree childhood. It's not an earth-shattering idea, and its existence will not make any difference in your efficiency. But it will bring you a few moments of laughter, and maybe some bonding time with loved ones. The concept is of an umbrella that flies (like a kite)…Mary Poppins beware! It's got jazzy LED lights that glimmer at night and basically implores you to drag yourself outdoors to catch some wind and fun!
Looking at the post dates (2010-2011) and some of the apparently edited images, we'd fairly well have to assume it's more a concept product than anything else – but I thought it was unusual and funny enough to share!