I toyed with many article titles for this comeback article. Rising like a Phoenix, Where Did He Go, The Monkey Takes Flight and more than a few others. But what actually happened? Nothing really, life just got extraordinarily busy lately more than anything else. I started a new job that most days leaves my brain utterly devoid of anything resembling coherent thought by 5PM and on more than a few occasions, I'd come home, all set to churn out an article and then I'd stare at the screen for a while and no words would magically appear. But let's roll back a bit first.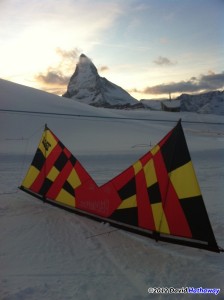 Somewhere around the very beginning of the year, I got a call from John, while I was in Switzerland visiting friends (a very nice way to spend Christmas, as evidenced by the picture of my Bintulu Rev flying beside the Matterhorn!). The call was a long one, via Skype thankfully, and the gist of it was very clear. We needed to redirect the Kitelife ship onto a new course. The idea of publishing once every two months worked for many years (Remember, Kitelife as a magazine is more than 10 years old, hell it may even be 15 years now!). With Twitter, Facebook and a very active Rev forum, news about kites and the kite world had become instantaneous. So by the time we'd run an article on a given event, it had long since passed and everyone knew all about it. So, we tossed around the idea of moving to more of a magazine format, blog style, where we'd post about things either as they happened, or directly afterwards.
Fast forward from a few months of development and we now have a very different, and very current Kitelife. Initially, I was going to be far more involved than it actually panned out, but, as I eluded to above, new work utterly got in the way, rendering all of March to be a complete write off with respect to free time to be involved. I did act as a technical sounding board for much of the site, but, with the addition of Spence "Watty" Watson on board, the site came together regardless and launched more than a month ago now. Hooorah!  Personally, I love the new format and I'm proud of how it all came together. But, that doesn't hide the fact that I've written very little of late. But, that certainly doesn't mean I haven't been flying…
In a nutshell, I've been to 4 separate events and flown a bunch of times on top of that. There was the fantastically funny time I took a Blast out to get some new video footage. On what APPEARED to be a gorgeous Vancouver day, by the end of the session I was packing up a kite in a pounding hail storm, that in true fashion stopped as soon as I had wound my lines up. iQuad did the South Padre Island festival again (my FIFTH visit to that awesome festival!)  where we worked on a new routine. The routine debuted at Kite Party 10 and we're pretty damn proud of it. It can be seen on Facebook, YouTube and all the usual sources and features some of the most technical flying we weren't even sure we were capable of.
Kite Party itself was it's usual great time as well, drawing in flyers from around the country for the tenth version of this festival. Nothing quite beats flying on a beach in a t shirt and shorts in the middle of March. And the very next weekend, pretty much the exact opposite for the 5th West Coast Rev Clinic. I can quite honestly say that this was the most fun I have had at a Clinic. The weather was a pleasant surprise, given the forecast essentially said rain rain rain rain rain rain all weekend. Most of the time the sky was blue with only occasional bits of rain, snow, sleet and hail. Which for one particular participant, Steve Leonard from South Africa, was very welcome. I can't even fathom traveling that far and finding the weather to be unflyable, but, as I said to Meaghan on the way down to Long Beach, when a guy flew that far to attend, it could have been howling rain and snow and sleet and I would have stood out there and flown with him regardless. As we always see, clinic participants finished out the weekend with more skills under their belt, whether it was their first time even flying a rev or, the "veterans" who come back year after year for what has turned into an almost mini festival.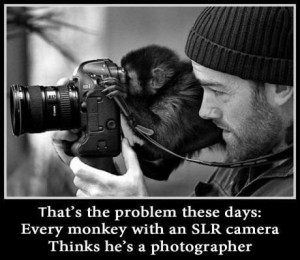 And what's on the horizon? Well nothing for me personally until mid May with Rockaway Beach and then Grand Haven, Pac Rim, Lincoln City and…the list goes on. I'm happy about that! Thankfully the new job knows all about "kites and monkeys" so, I don't expect it to take much of a chunk out of my travels and I found that in March with the two events, I went into them in a very happy mind set and I am really looking forward to the upcoming festivals.
See you on the sand or grass, somewhere soon! I promise to have a better article for the next time I'm up to bat, and feel free to leave comments on this one to give me some ideas.
See you on the field,
David