Well I've had some time to think about the "boot camp" held on July 7-8 of this year and what it meant to me!
I remember being excited, but nervous!! Remember, I've only been flying in formation for about a year now! Could I do all that was being asked of us?? Were my skills "up to snuff"? What if I brought down the whole team? Fears were hiding in my brain!! I put on a happy face, acted brave, but all the doubts kept surfacing!! Could I pull this off? In front of John, Bazzer, TK, and Watty?
I was one of the few that got there a couple of days ahead of time! Got in some work with Jim and Lynn Foster, Gerry Ralls, and Cass and Carol Pittman! Thank Heavens!! I barely knew what a blender was and here was one in the routine! But with everyone's help, I was able to learn it well enough to feel confident in doing one with everybody!
Team one:
Brett Howard
Dave Bradley
Walt Ellis
Brian Achenbach
Spence Watson
Bri Howard
Team two:
Jim Foster
Lynn Foster
Carol Pittman
Cass Pittman
Howard Mathews
Chuck Wiley
Team three:
Katrina Bruland
Gerry Ralls
Ann Vogel
Wayne Dowler
Kevin Vogel
Mark Giadone
Instructors:
John Barresi
Bazzer Poulter
Spence Watson
TK Barresi
Over the couple of days, I worked hard on trying to bring up my skills on things I knew were weak! Diamonds, rolls, Carol's fancy diamonds, blenders, benefits were all things I tried to conquer! I felt OK about them, but still a bit nervous about how they would turn out, especially in a group format! But flying in line with everyone was good practice for what was to come….!
Pre-event discussion…
http://www.revkites.com/forum/topic/5524-1st-annual-rev-team-boot-camp/
Saturday!
Get to the field early and CRAP, the winds are already blowing hard!! Put on my full vent and felt like it was gonna be a long day!! Already overcome by fears and now overpowered by the wind! Luckily JB, Watty, TK, and Bazzer were there for the rescue – xtra-vents!! We had talked at Lincoln City about what to do if the winds were strong and they had said they would bring all the xtra-vents they could!! Altogether, they put out 10 for everyone to use that didn't have one! And everyone of them they brought got used!! Talk about saving the day, now you could concentrate on the routine and not on how hard it was to keep your kite under control. WHEW!!! Those flew amazingly well, and I'd like to THANK John for letting me use his, it made it a very nice experience!!
With that taken care of, back to what we all were there for, learning a routine!! Now this was a different experience for me! I'm mostly a solo flyer, able to do whatever I like, when I like, how I like! I've been in some lines and grids, so formation flying wasn't bad, but learning a routine, flying it with others, to music, hitting the cues on time, was a whole different thing for me!! Well we started – with little kites we made and mounted on rods! A word about the "little kites"! They were all different! John had asked us to have them for the camp and left it to everyone to decorate them as they saw fit!! Some were plain (mine), and some were pretty, and some were pretty complicated, but let's just say that everyone had one to use!! So John started us on learning the routine, using the stick Revs to show it to us! If we didn't understand, or messed up, he'd start over and show us what he wanted! A word of explanation here – John and Bazzer were the 2 main instructors, Watty got "drafted" into a short-handed team and TK became our "unofficial/official" photographer!! Everyone had their part in this!! All in little pieces, we got parts of the routine together, then we went to try putting it in the air!
OK, I don't know how else to explain it, but we were the "slow, but sure" team! We had a "rookie leader" Katrina, a couple of us that hadn't flown much together "the whole team" really, and our progress was slower! Let me give a shout out to all our team members – Katrina, Gerry, Anne, myself, Kevin, and Mark! ( PS: let me give a super shout out to Anne, if I remember correctly, this was the very first time she had even flown a blender!! ) That was the order we flew in, put us in the best positions to succeed, and it paid off in the end! Anyway, we were learning the routine, but not at the same pace as some of the other teams! Some were already trying it to music, we were still learning it! Always felt like we were behind or something!! Perceptions! We were just moving at our own pace! By the end of Saturday though, we had all the moves down, just not very polished! I'm thinking part of the problem was that we didn't have a good music system for the clinic!! We struggled to hear some of it and had a hard time getting our calls on time to the beat! But we were learning it and getting more confident in it!!
Sunday!
So after setup, and again THANKS to everyone that lent out xtra-vents, we ran through the routine several times, dry first, then to our own music!! We were getting it!! John and/or Bazzer would come by, watch our progress, make some suggestions, watch some more, them move on to the other groups!! It was coming together, we'd all make suggestions on what needed improvement, work on it, and keep going! I felt it was looking pretty good, we had the pattern down, we weren't making any huge mistakes, OK good! So we broke for the stick Rev judging, won by Dave B.(won a set of Race Rods), and felt pretty confident!! Had lunch and then BOOM, let's try the routine to one caller, one music source, all together at once!! YIKES!! Another challenge!!!
Well, we all set our radios to the same channel, to hear the one caller (Brett) and his music, and got ready!! The first couple of lines in the song were quiet, so it was hard to hear that and we just had to go on the caller's cues! It took a few tries to get it down, but as we worked on it, everything seemed to get in sync! The more we flew it, the better it came out!! I don't know how many times we ran through it, but nobody wanted to quit!! It got easier, and better, and became fun!! That's right – after 2 days, I think I finally breathed!!! All the doubts, tension, worry, just disappeared! 3 teams of 6 people flying the same thing, at the same time was AWESOME!! I'm not sure if more than one was filming us, ( thanks to TK for her doing that), but the final video shows us all going through the routine, pretty much in sync, and having a ball doing it!!
One of the things that we did on Sunday to break up the day was to fly some grid work!! Many had flown some before, some not, but it was a break from the routine and put a different spin on things! John helped line us up in order, then called for us!! After the routine, this seemed pretty easy for me!! Really!! I'd gotten so comfortable flying with others so close, that the grid seemed huge! John did keep it pretty simple, threads and easy stuff, but it was different and still a challenge!! It helped a lot in easing my fears in being in one! I was feeling like an "old pro" at this, but I'm sure I'll have my own slip-ups as things go on!! Karma, baby!!
A couple of things that came out of this – we all learned – new combos or new moves or just something about ourselves – I'm feeling more confident about team flying in general! We had some new leaders learn to follow a routine, work with your team, and to be confident in what you're doing!! We learned that one routine can be learned by many, all at the same time, and flown together! The spirit of Co-operation is alive!!!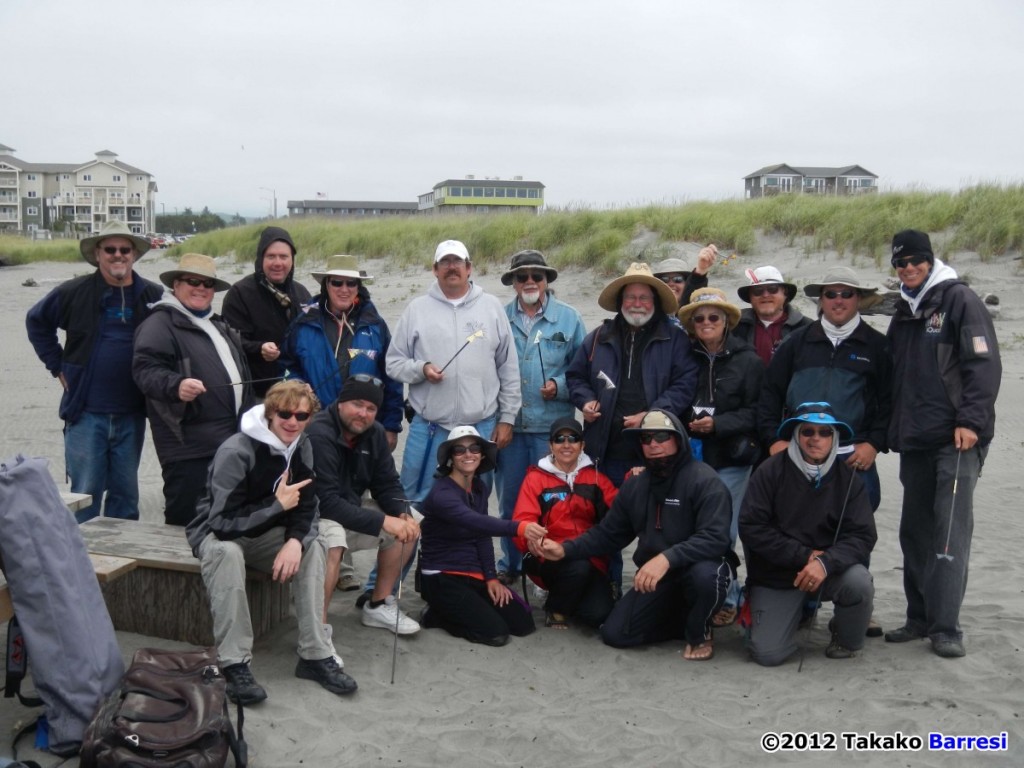 I can't say this strongly enough – If anyone can make it to this – go for it!! It'll really help your confidence level, improve your skills as a flier, and get you over being in a group or team style line! It's fun, once you start breathing!! LOL!! Seriously, I did and it was amazing to see what you can do, if given the chance to push yourself!!
I, for one, enjoyed the heck out of it!! Let's see where this goes next….?! Cause I'm in!!!
Wayne