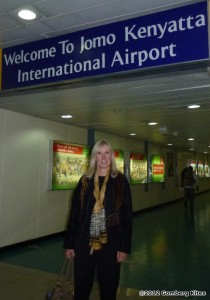 In August, Susie and I were honored to join the first Kenya International Kite Festival as both performers and advisors. This was the first effort to organize a large scale kiting event north of Johannesburg and the potential was enormous.
I've often said that every part of the planet has their own indigenous kite traditions.
Japan has their washi paper flying art. In Australia, Hargraves invented the box kite. Canada has Alexander Graham Bell. From India to Iran, they fly maneuverable fighters. The Europeans have military kites, kite photography, and kite traction dating back 200 years. And here in the USA, we have everything from Ben Franklin to Charlie Brown. But in Africa, there is not a historical, original, or traditional kite. At least not yet.
The festival in Kenya was formulated by a group of women entrepreneurs inspired by time spent in Washington DC and seeing the Smithsonian/Cherry Blossom event. Two years in the making, they finally were able to recruit sponsors, a location, and participants. Our job was to assist with activity suggestions, cost efficiencies, and orienting the program with the prevailing wind.
The location was the infield of a popular horse track. We visited several times and always found it breezy. So it was predictable that on the day of the event, that wind would drop to nothing.
Tents along the sidelines offered everything from clothing to chocolate. And there was a wealth of good food and drinks – including "adult beverages". A vendor at the gate sold plastic deltas and a few sport kites. A sound stage offered music and a local radio personality. The sky was soon filled with all kinds of objects, propelled in a variety of directions by a hoard of sprinting children.
On our own marked field, we struggled all day to launch in the occasional warm gusts. The Ray went up. The crowd cheered. The Ray came down.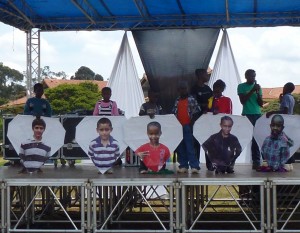 We had brought five large kites and most stayed in their bags.
Earlier in the year, an art project supported by the US Embassy had brought a kite "designer" to Kenya who worked with local children. They prepared kites with their own pictures which was a well received and most interesting program.
Awkwardly, the kites were over-framed, made from heavy vinyl, and aerodynamically un-flyable. But they looked good and that is something!
As the sun set, the public crowds disbursed. And on cue, the wind began to rise. We lofted an Octopus and turned the anchor lines over to our hosts.
Their smiles lit up the sky.
While we deemed our own performance modest, the festival was a success. Plans at this point are to hold a local event in march to maintain kite momentum, and then schedule another larger international event again in August 2013.
Will the location be the same? Unclear.
After the festival we shifted to a resort one hour away to test flying options. The lawn behind the chalets proved interesting. But I wouldn't advise it for a large scale event.
Hell's Gate National Park is another matter. The wide valley between opposing plateaus is not ideal. But it is definitely workable. And how would you feel flying kites in the open grasslands while zebra and giraffe looked on? Very cool!
Let's hope for good news and progress from Kenya.
During our free time, we visited the Nairobi National Park in search of wildlife. Entrance tickets were expensive and the animals were scarce. Score this park two stars on Trip Advisor! It was, however, close enough to the city that you could see the skyline above the trees. Interesting.
We visited the Karen Blixen house – known more for the film Out of Africa than for the works of the author herself. "Here is the bed Karen slept in" explained the guide. "And here are the pants Robert Redford wore in the film." Historic ironies aside, it was a beautiful and informative place.
We also visited the well-known Kazuri bead factory where traditional crafts have empowered local women with work and advancement opportunities. And yes, Susie bought definitely helped economically empower these women! We finished the day with a delightful meal.
Susie and I are grateful for the opportunity to be on the starting level of something special. Anywhere you go in the world, you stretch out a line and put a kite on one end and a kid on the other, you get a wondrous result. At it's peak, Kenya looked like any other kite field, filled with people having fun. I'm confident this is the start of something special.
Many thanks to Wangari, Melissa, and their entire management team for this vision and their efforts to make this all happen. Best of success in the future. We look forward to being part of it!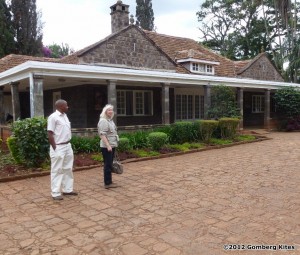 One sad note. We spend a wonderful day with our driver Paul who took us through the wildlife parks, museums, and factories. He found a great place for dinner and we asked him to join us. We talked about our lives, our homes, and our aspirations. We quickly grew to like this honest and down-to-earth new friend.
The following morning, he was involved in a car accident and killed.
Life is fleeting. Hold fast to your friends and don't squander a single day! We will never think about Kenya and kites without thinking of our friend Paul.
David Gomberg