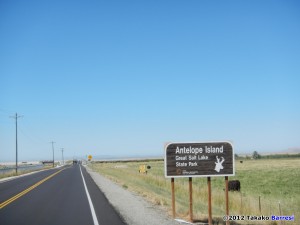 Last year I asked the folks who came to the island to write up their views, impressions and feelings about their time on the island. I did the same thing this year, I asked them to be honest and give me 2 or 3 paragraphs.
As much as we have all read write ups about events by individuals I thought it would mean more coming from a group who attended, in their own words.
This is what the 2012 AISF attendees who responded sent in:
Paul Glasspoole
This year I chose to participate in the Salt Lake City Antelope Island Stampede over Labor Day weekend rather than going to the Callaway Kite Fest in Callaway, Nebraska. My original plan of arriving on Friday and leaving on Monday quickly changed so that I would be there a day before and a day after the festival. As a result, I was able to participate in one of the two extra days of what Kevin Bayless dubbed "Kitestock". Those extra days were dedicated to fly kites, talk, eat and laugh on what appeared to be a private island inhabited by kite minded people.

Several of the best kite designers were present and succeeded in wowing both the Stampede crowd and their peers by displaying (and flying!) masterpieces. At night, ROKS would fill the air as perfect winds held them stationary. Lighted kites flickered and swooped through the moon-lit fields. I proudly stood by as many people flew my lighted Prism Zephyr and lighted REV which each had 96 LED and a 4.5V battery attached with zip-ties. All others were put to shame by John Robinson's Gomberg Delta with programmed LEDs truly illuminating the ENTIRE field. I do not think anyone in that field will soon forget the absolute tranquility that we had once the Stampede flood lights were extinguished each night.

My memories of the 5-day kitestock: Amazingly beautiful ROKs. Cooking 6 burgers every morning for four people. Chatting up the vendors to the point where the Rib guys held a few racks of ribs for us even though those before and after were told they were sold out. Flying over and then floating in "America's Dead Sea." Bison walking through the field causing kiters to disappear and take a short break. Stepping, sitting and landing in Bison poo. Riding a Manta landsailer in a Monsoon. Leaving camper windows open in Monsoon. No cell coverage = no calls or texts (yeah!) Blueberry Vodka shots. Headless Pelican. Head of Pelican. Seemingly permanently discolored, cracked heels that will make me walk funny (er) for weeks. Using all nine pair of shorts and t-shirts for a 5-day trip. Being told to slow down by the DNR officer as he clocked me on the Manta. Happy that I did not break my kite or step on others in the field. Flying under a sky so bright that lighted kites were not really necessary. Watching ghost kites silently flicker above during the midnight hour. Playing games of lighted bocce balls and laughing as the ball stopped abruptly as it rolled into Bison poo. Seeing my lighted kite stop suddenly and hearing "ummph" as I clobbered a silent silhouette. Confidently flying next to the best kite fliers in the world. Having the lady at the shaved ice booth high-five me as she closed the final day and say "We have never sold out of banana but we did this weekend because of you!"

Driving the eight hours home felt like minutes as highlights occupied my mind's eye. I saw an electronic warning sign indicating "+50mph winds next 30 miles. Small trailers take alternate route." I smiled to myself as I thought "Ah, the wind is challenging me one last time!"
Ben Dantonio

As general manager of Revolution Kites I have had the chance to fly the world over and have as always found that Antelope Island always makes me happy and also seems to just bring out the best from everyone. As most of you know it's not on a beach where the wind is always smooth, nope this is Antelope Island where it can just be about anything as far as weather. But what it brings to the table in a big way is the people because to me they are all just stars and give and give and then give some more, so when you add kites to the mix what you have is a must do for any kite flier because it may only be an island but to me it's a whole new world and by the grace of God I will enjoy many years of flying on the island with my friends and meeting new ones on each trip…… Big thanks to all…
John Pollock
Here are my comments on the festival.

What was special about the Antelope Island Stampede?
Was it the weather? I don't think so.
Was it the temperature? I don't think so.
Was it the field? I don't think so.
Was it the beautiful landscape? Ya, maybe that was it.
Was it the constantly changing scenery? Ya, maybe that was it.
Was it the fantastic sunsets? Ya, maybe that was it.
Was it the music concerts? Ya, maybe that was it.
Was it the party atmosphere? Ya, maybe that was it.
Was it the kite flying? Ya, maybe that was it.
Was it the friendly sharing people? Ya, that was it.

The festival was attended by some of the best kitefliers and some of the most creative kitemakers in the country. We came to fly kites, share ideas and have a great time.
John Robinson
Mid August 2011-

"Honey can we, would you like to drive to Salt Lake City Utah to fly kites over the Labor Day weekend?" I was talking to this guy, Kevin Bayless, on Face Book, and he invited us to the Antelope Island Stampede Festival to fly kites." Said Lori Robinson.

Labor Day 2011-

We arrived at Antelope Island (the Island) set up camp and started doing kite stuff. We met and became friends with so many great people over the weekend. Amazing. We had only been flying a couple of years, but the other flyers accepted us and made us feel like we had been flying and part of the family forever.

End of Labor Day 2011-

Lori and I did not want to leave the Island experience and feeling. However, we drove back to Central California with the promise to return next year to re-connect with old friends and make new ones.

Time between 2011 & 2012 AISF-

We stayed in contact, via social media, with our new friends and counted the days until the next AISF.

AISF 2012 Friday-

Arrived at the Island 0730 and was greeted by Mike McDonald flying his stack. We setup camp next to the flying field. Not too much later two"white vans" arrived and flyers piled out and began putting rip stop in the air. Ron Bohart's Kitty, Simon Crafts genki and iQuad dusting the travel dust off their Revs. Like newly released refugees a small universe was erected. A base for the Festival was created -trailers, tents, vendor stands, music stage and porta pottys. The evening crowd came and the kites flew the music played and everyone was walking around with an ear to ear SEG. The Island vibe was going, ramping up and touching all who would just be there. Music, night flying, food and folks mingled into the new universe that was AISF 2012. Oh, but wait, there there was the ever present hand of Mother Nature. Thunder and lightning and mini down pours. Buzzing on the vibe and exhausted from the drive, I blissfully slept through it all and was only aware by description from Lori and others. Egad, lightning and thunder were happening simultaneously snap-boom and I missed it. It would have been something to see. (just wait).

AISF 2012 Saturday-

After viewing the early morning coyotes hunting on the fringe of the flying field and the buffalo (Bison to some) making a graze through the day began and so did the weather. Too much too close together to get the chronology correct, but the Island village saw micro bursts of wind, hail, rain and other wind shifts. I remember scrambling to get kites down and helping to get as much safely away as possible as quickly as possible and making for cover under our Quick Shade and then watching nature at its best. Almost as soon as it came it was gone leaving a couple of inches of water on everything. The flying field dried out quickly and the kites went back up. The Teams were flying and we were all watching the sky and looking at the horizon for what was next. Next, there were beautiful rainbows and a golden sunset beyond description. The sunset was felt as much as seen. Magnificent!

AISF 2012 Sunday-

Up and Adam! Checkout what happened while you were asleep. All is well. Now fly something. The morning is beautiful and starting to fall into an Island routine –looking for new buffalo poop on the flying field. It is nice to know those gentle giants have wandered through. Friends, flying, food, fun, music, bmx, paragliders and the crowd. It is Sunday and the Festival is winding down. Sort of sad, but NOW begin KiteStock 2012! Night flying with the remnant of a blue moon let the ROKs loose. If memory serves, sometime around first dark the Antelope Island Zephyr began. This Zephyr is a soft smooth pure wind that blows with such grace as to be a gift. This night kites were tacked to the sky for maybe 5 hours. Flyers sitting in lawn chairs looking up and enjoying the sight of the full moon rising on the kites and sharing the sense this is magic that is rarely encountered. Wonerfu1!

KiteStock 2012 Monday-

Just get up and fly. The day was very warm and the wind suitable for ultra light kites. Shade was important as was keeping hydrated. Ice was precious and plentiful. The crew came and dismantled the vendor tents and stage and eventually the big white tent too. Ever resourceful, the bold kite stalkers made their own shade and continued with the bliss. The Zephyr returned and kites were flown, night bocce ball played and even a visit from a neighboring buffalo rounded out the night. Night flying with the light of a rising full moon is just an 'oh my gawd' thing one needs to experience. The good times were definitely rolling and the Island vibe was strong!

KiteStock 2012 Tuesday-

It is still pretty warm and some of the group went on a field trip to see the unique local sights which included the Spiral Jetty and the Golden Stake Museum. I flew my bird and took a short nap (couple 4 hours or so). Best as I could tell the rest of the group cooled their jets, relaxed, decompressed and overall hung out. The sanitary contractor visited and picked up all the porta pottys –even ours. We would group up and drive to the nearest campground facility. Can't keep us down the vibe is too strong. Come evening great communal dinner appreciated and enjoyed by all. The Zephyr is baaack. Up go the kites. Were we getting complacent or taking the Zephyr gift for granted, who knows, but Mother Nature sent a whirl wind to our kites and made her own ROK battle. What a show it was!

Kite Stock 2012 Wednesday-

Got up late and found the camp much as it was upon our arrival. The "white vans" were gone as well as most of the other campers. It is that time again. It is over and I do not want to let go of the Island vibe. Here is my secret for you, come and get the Island vibe and if you are quiet and listen closely you can still feel it. It is part of you. A gift if you are open to it.

We will be back next year and mark time until then.
Spence Watson
This was my second time coming to the Antelope Island Stampede festival, and yet again, I had a great time. The thing about this festival is that it is totally relaxed, and there's plenty going on.

A highlight for me was the para-gliders who flew around with large fans on their backs doing flips and spins and all kinds of things that left me speechless. The BMX bikers are always fun to watch, as are the sky divers and the live bands. To top it all off, I don't even have to put my kite down to enjoy it. Wherever I go, I take a kite with me.
Rod Thrall
Antelope Island Stampede Festival has been on my "must go" list since I first heard about it 3 years ago.  What kite flyer wouldn't want to attend a festival that combines kites, hot air balloons, live music and a beautiful setting?  Kevin Bayless had invited us last year but we were unable to attend due to other commitments.  This year we planned for it and when the invitation came we were excited to be a part.   We weren't disappointed.

First and foremost is the collection of kite flyers that were on hand.  Very few festivals in the country could boast the who's who of kiting that were in attendance.  Many we knew but many we met for the first time on the Island.  The flying was what we expected, any time you fly at an inland venue you can expect variable shifting winds.  No worries though, if the wind was blowing we flew kites, if not we socialized.  Then there is the site.  Right on the shores of the Great Salt Lake with some of the most beautiful sunsets I have seen in a long time.  Add in the balloons, the live music and the crowd and it was an amazing weekend.  I only wish it were closer to home.  We probably won't be back every year but the Island will be on my "gotta go back there" list for as long as I am still able to fly a kite.

Nic O'Neill
Antelope Island Stampede is a welcome symbolic end to the summer kite festival season for us. Months of travel and performing come to an end to the sound of children's laughter, claps of thunder, and the giggles of a few wet kiters taking refuge from the intermittent squall. This year after performing some indoor routines for the children at a local arts school Paul and I made our way out to the island. Although the smell of brine, the countless bison patties, and the temperamental winds were familiar for me, the whole experience was a new one for the two of us. Whether we were laughing and shivering holding the tent in 35mph winds laden with rain, or walking the field drying out as we picked up kites there was a continuous current of happiness that flowed through us.

Without realizing it, till perhaps we had all left, the group that came to Antelope Island achieved more in a few days than most achieve in a lifetime. Some of the greatest minds in North American kiting shared meals together, shared the laughs, shared breath taking memories, and watched intently as Dean Jordan took three days to assemble a genki. We were simply a family at a reunion, a family in spirit and heart that forgot all of the drama and baggage that sometimes follows us to these events.

This year I walked away with some of the most precious moments in my kiting life. The look on the faces of a hundred school children as my friend and beloved partner Paul de Bakker flew over their heads. I could see on his face a love for kites that was so pure and precious. I stood in a rain soaked field with Bazzer Poulter after a strong squall on the verge of tears as we watched three rainbows develop before our eyes. Laughing because it was the only thing that felt right. Witnessing the masterful art and laughter that comes with flying a single line, grilling, and conversing, all at the same time by someone I consider to be a mentor; Ron Gibian. Helping Simon Crafts lift his genki into the most breathtaking night fly I have ever witnessed, all the while a blue moon rising in the background. Then there was Jose Sainz flying his serene creations above iQuad as they performed against a backdrop of a breathtaking sunset. The list goes on and on, and my heart swells thinking of those moments.

It might sound as if I am forgetting the crowds and the other people that were there to attend the event, but I am not. I am unable to sum up the event in any meaningful way that anyone could understand. All I can do is reach out to my fellow kiters and tell them how pure and strong the love for this crazy family we have is. This event is put simply… just that. It is a symbol of our love for the purity of kites, how they can interact as extensions of ourselves with people we love, and people we have yet to meet. A child has never walked away hating kites, and perhaps that is the core of our love, we are all still children deep down inside.
Jeff Tomlinson
Unbelievable. This word best describes the Antelope Island Stampede Festival for those who've never had the experience, for the rest of us there is a whole fleet of Synonyms to try and describe it. While I have been to a few other festivals I cannot even begin to compare them with AISF, the energy, camaraderie and enthusiasm I'm quite certain, are absolutely unparalleled. For those I've spoken to during their first attendance over the years, they exhibit almost a Zen like aura about them, yes they too now understand the true beauty of this dry and dirty little desert of an Island, in the middle of the Great Salt Lake. Where else can you fly with Antelope, Bison or Coyote running around in the background, and the sunrises and sunsets? Tailormade, for those who remain to see.

But what truly makes it so special? First there is no formal field agenda of any sort, from "be here at this time" to "fly soft kites within these lines" or "dual lines between 1 and 2 only!" Instead, the kite field is an origami display of every type of kite imaginable, all coexisting peacefully in a singular space, utilizing the same breeze for a common goal. Second is the easy accessibility the public has to the kite flyers, whether to get a closer look at a kite or to ask a question about how they actually fly. Sure, they do not have open and free roam to the flying field itself, but the kite camp is very open and inviting to anyone whose curiosity needs to be filled. To offer their availability and artistry on such an intimate level to the public is incredible! Third is the amazing kite fliers themselves. From cooking meals for each other, rescuing kites & gear when a microburst hits, coming together to create shade relief when none exists, to simply leaving their gear out and letting anyone fly it at any time. I've met many people throughout the course of my life, but the fliers that come to AISF are some of the best you'll ever meet, period.

So what can be said about the 2 day after event? It still makes the hair on the back of my neck stand straight up! The experience of what happened over those two days I can't properly put it into words that would do it justice. It is something that I will never forget, and I hold a common understanding with those who were gracious enough to share it with me. For those who were unable or unwilling to attend it, I wholeheartedly encourage you to attend the 2013 festival and embrace all that it brings, there is a reason that once you attend, and you'll just keep coming back for more, year after year.
Bazzer Poulter

I could talk about the festival itself. You know the kinda thing…. Such and such flew this and that! The performance  by….. were amazing. I could but I won't.

Why? Let me tell you.

What happened after the festival is why I fly kites.

It's not about the performances or the slaps on the back in congratulations, its about the people.

I sat back and watched kite flyers just playing.

Laughing; kidding around, sharing stories and insights.

I saw shelters being built for shade from the sun, tents being blown across a field at night. People cooking meals , circles of people either in intense conversations or just looking at the stars.

Three nights of night flying the like of which I have never experienced.

Yes I have done the big lit shows at both Dieppe's which in their own way are a spectacle.

However I have to say that on an island with no light, a wind sent straight form the gods themselves I experienced the most satisfying single line kite flying of my life.

Flying in the sunset and as the sun drops flying close to your friends on a star filed so dense it just took my breathe away.

Surrounded by friends with the sounds of laughter and silence drifting on the air.

If it was possible to make a map of all of my kiting experiences over 21 years then one of my golden pin tags would go in those moments.

Here's to next year.
Ron Gibian
Last year I spoke of tittles such as Woodstock, The Willy Nelson picnic of kites.

This year I can safely say that now it has also become Kitestock and as I have said before how this event is fueled by the energy the participants bring to the table, this year it proved that with more surprises, more pranks and simply more laughter anyone could imagine. Once again that relaxed atmosphere, great conversation with other kite makers and kindred spirits without schedules and expectations is what is most attractive to me.

This year we also had some very dear and old friends that brought their very own brand of excitement to the event as they usually do and surprised me with a few fun moments indeed.

This event has grown to include not only the Hot air Balloons and kites but also BMX bike performances and new this year Blake Pelton and his troop of paragliders that seriously entertained the crowds. Live music was also great once again and did I mention kites, ah yes kites we had it all, things we had seen last year and of course many new one ones not seen before but ultimately the story is much bigger than just the kites, for me is all about the people there and how they form this great story that is so difficult to explain to those who have not been there so I say this; if you have the ever now so popular " Bucket List" in your agenda? Forget it, it takes to long, move your attendance to this event to your most important main list of to do's and become a part of the story yourself.

On a personal note, I offer my sincere gratitude to Kevin Bayless for wrangling all the kite folks and to Barbara Riddle and staff for her amazing organizing skills and tireless efforts on this massive venue so a few thousand folks can have a good time. I look forward to next year so we can all be with this great family we have built once again and write the next chapter of this wonderful journey.
Lori S. Robinson
Antelope Island Stampede Festival 2012 is in the books. Kite Flyers have long been afflicted with a condition that develops immediately following the close of a kite festival. Post Festival Depression is common when kites are taken from the skies and returned to their bags. Departing flyers say their good-byes and tear themselves away from the field. How do you prevent PFD (post-festival-depression)? Kevin Bayless has developed a cure… or at least a way to relieve the symptoms. He has developed a therapy called "KiteStock."

The 1st trial/treatment period of "KiteStock" was proven to be Highly Effective in the treatment of PFD. Continued research into the effectiveness of "KiteStock" is scheduled to occur on the three days following Antelope Island Stampede Festival 2013. Kite Flyers who want to take part in the study, please make arrangements to camp on Antelope Island and participate in the post festival flyers therapy session.
John Barresi

This was my third year out on the island, and I've got to say – it's like no other event I've ever attended… As kite fliers we're encouraged to interact directly (in our own ways) with the attending public as we see fit, flying all over the field and chatting with folks, putting kites in hands or sharing a little kite philosophy – simply amazing!

No field boundaries, roaming wild buffalo and antelope, not only mind-blowing sunrises and sunsets but ALSO equally (if not moreso) stunning moonrises… A really casual and beautiful environment, fliers come here to relax, spending much of the day hanging out with friends, flying, enjoying each others company without any sort of event schedule.

Watch iQuad interacting with the BMX bikers, take a ride in or help wrangle a hot air balloon, take in the para gliders as they come out of the sky and land on the kite field, grab a beer and loft a single line kite over the live music on stage or join the short line Rev fliers in front of the stage, tough out the rare micro-bursts of rain and wind and then share a chuckle about it with everyone while double rainbows appear on the horizon, enjoy fresh barbeque and authentic dutch oven cooking, night flies in the dark just before the moon rises over the mountain and illuminates everything, soak up one-on-one time with some of the top kite makers and sport kite pilots in the world, camp right on the island and wake up whenever you want… Then stay over the extra 2-3 days for Kitestock, 100% freedom to be yourself with no public at all – just kite fliers having a great time.

I think what really does it for at this event, other than the obvious camaraderie and kite flying, is the unusually large variety of sights, activities and beautiful oddities that attendees experience through the course of even a single day on Antelope Island… The wind and weather isn't always perfect, but the environment and support of the organizers makes this one of the most pleasurable and relaxing events I've ever been to.
Dean Jordan
I was privileged to be an invited guest at the Antelope Island kite festival in Utah this year. Wow, and what a privilege it was. Not only was I told I could come and do what I love to do, they didn't have a schedule for us, or mandatory anything. All kite festivals could learn from this. It is truly remarkable that many events don't recognize that we give our all, every chance we get.

While weather prevented us from flying as much as we might of, we still managed to get quite a few large pieces up. The talent on hand was truly a who's who of North American kiting. Just amazing. I have to say though, my favorite part was our visits to the schools. I just love interaction with kids, and we got to do plenty of it. Kudos to Kevin Bayless for making this happen.

Meanwhile, the Island itself is a place that begs to be explored. Jutting up out of the Great Salt Lake, with wild animals(and plenty of Bison), the scenery never failed to impress. Stupendous setting for what we love to do, which of course is, to paint the sky with our kites.

Barbara Riddle is certainly to be thanked for her vision and drive to take this thing to the next level. I can't wait to visit again!
Simon Crafts
Antelope Island 2012 came through as one of the top kiting events of the year, despite – or perhaps *because of* – diverse and challenging weather conditions.

The buzz in the kiting community leading up to the 2012 event was tangibly high. Those of us who were fortunate to be on "The Island" in previous year(s) have been talking about how much we've enjoyed being there, and word certainly got around. The kite camp was nearly double in size from the year before, with a list of Kiting Luminaries that is hardly rivaled at any event – including kiters who made the trip on their own to be a part of this happening. Multiple Grand Champions – in both kite making and sport/quad line flying – were enjoying themselves with the rest of their kiting family under the delightful guise of providing entertainment to the public.

I must take a minute to congratulate the Davis Area Convention and Visitors' Bureau, the Event Committee, and particularly Barbara Riddle (chair) and Kevin Bayless (kite chair) for having the willingness and vision to put a winning formula in play. The Island is not a kite festival – but it is. It's not a balloon festival – but it is. It's not a concert venue – but it is. It's not a BMX park – but it is. It's a carnival, a true festival of entertainers and vendors and volunteers who are doing what they love, and it shows. This is a key element for the kiters in particular. Many of us don't think of ourselves as entertainers, or headliners, or deserving of a spotlight (okay, okay, JB and Ron excluded. Hahahaha) We think of ourselves as kids, sun-and-sky seekers, dreamers, and pilots. Particularly when surrounded by other like-minded people, what do we do? We fly. We play. We dance with our strings in the sky and wrestle with them when it warrants. So, fly is what we did. Every chance we got. From the moment the campers stirred, or when the first vans arrived in the morning, until long after sunset. We flew, and were entertained enormously by the other acts in the carnival. It's hard to think of yourself as a performer when you feel like you're one of the paid attendees who is there for all the fun that you're having yourself. So what if I've got a kite in my hand while I shop? "Hey lady – hold my kite while I try on this hat!" Or, "Hey kid! Wanna fly my kite?"

I mentioned the weather and its challenges in 2012. Friday and Saturday were tough. High winds at times, no wind at times, thunderstorms, drenching downpours, and bursts of 40+ mph winds. This gave us a chance to hunker down, huddle under tents, or sit in the shade and do the other thing we do best: visit, swap lies, and harass each other. The environment is so beautifully and spectacularly alien to so many of us, that the grab bag of weather actually broadened the experience for me. Where else do you get to see a grown man dive headlong onto a pup-tent filled with framed show kites to keep it from blowing away in a sudden burst of wind during a downpour? (And yes, my kite was the only one to sustain any damage there. But the dolphin dive was epic.)

The most important part of any event is always the people. The mix of kiters certainly grew in 2012 and the Family atmosphere was ever present. The shenanigans, the laughs, the (at times) *amazing* flying, and the (at times) difficult flying – were all made more enjoyable by being immersed in such a great group of people. Old friendships were cemented fast, and new friendships were made – but we all left as brothers and sisters, hoping for the opportunity to return next year.
My view……
First let me say I am honored and proud to be a part of the team that brings everything together for this event. I thank each and every one of the committee members and kite fliers for helping to put on one heck of a great time.
We had awesome weather; by awesome I mean it was the more awesome versions of what we had. Those who have been before know about the wind, it comes and goes, can microburst us without warning, and changes directions. This year we had that, all of that and then some. Rain, yeah we had that as well, one storm that rained so hard, mixed with hail that made the field look like a shallow lake, in 20 minutes or so it was all gone, soaked right up by the island as if to say, "ok breaks over, go fly".
Cloud formations of epic, Hollywood like movie scenes, rainbows, double rainbows and sun, lots of sun as well but the thing that will stand out in my mind will be the way we all pulled together, made it work. It was only going to be a problem if we let it be, and we did not.
There were almost 40 vendors this year, a major increase from last year, the entertainment, the bands, were great. The 50/50 BMX group rocked it; I mean they were really hot. Rhonda and Lindsey were great, over 900 kids kites made.
The paragliders were a major hit, I can't thank Blake enough for the group he had on the island, what a treat.
More than anything I want to thank the kite flyers who attended, it is you folks who make this event.
See you there next year!
Kevin Bayless