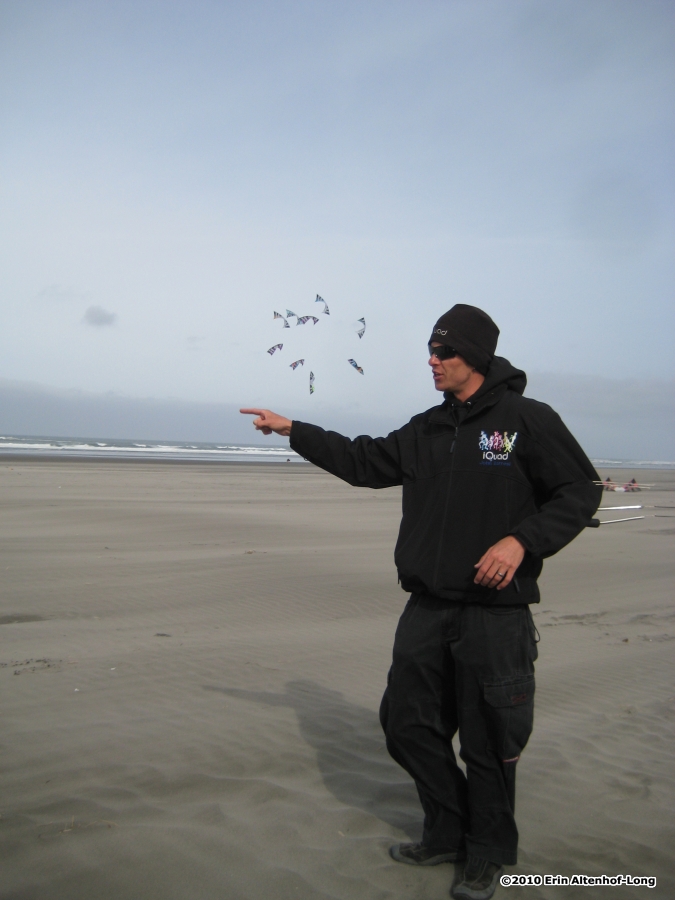 Working up toward a point, I'd like to highlight the fact this is the first article I've written for KiteLife since March 17th and the first "Kites… Life" article I've submitted since September 12th of 2012, just one month after agreeing to serve as AKA President… During the months in-between, I've had incomparable highs and lows on many fronts and I'm sad to see the amount of energy behind KiteLife Magazine has dropped to it's lowest since just before it originally changed hands from Mike Gillard to myself in 2003.
At that time, Mike had also become too busy and spread out to give proper attention to KiteLife's content… Just three years later, he passed away very suddenly at the age of 51 and to be quite honest, his progression through various duties, projects and stresses rings very close to home and his untimely passing can't help but serve as a warning and reminder not to spread myself too thin for too long.
This brings me to one part of some remedial steps I'm taking in my life, just to stay true to my principles, preserve my marriage and to ensure that worthwhile vehicles and unique resources like KiteLife Magazine don't fall totally by the wayside.
Toward this end, I'm truly overjoyed to announce that Allen Carter (also known as "kitehead" on the forums) will be assuming the role of Executive Editor… A veteran in the community, Allen was an easy choice when he responded to the help wanted ad in our forum – a veteran in many walks of kiting, Allen has years of experience, a kind heart and passion for kiting that has spawned great relationships throughout the community and other than as member or customer, he has no direct ties to any association, manufacturer or group in particular, making him an ideal and unbiased candidate for this important role.
With that change underway, I'm sort of "stepping off" from the magazine side of things in favor of Allen's fresh views and "ground level" eye for content and topics… While I will still contribute as an author, work with the forum, social media, produce tutorials, etc, we've both agreed quite naturally that KiteLife Magazine best serves as a "people's voice" and I know in my bones that this ideal will be far better served with him behind the wheel.
With less pressure on me from the magazine side of things, I hope to maintain both my Kites… Life column and interesting articles whenever possible, but I really looking forward to enjoying the magazine as a reader, and to Allen's upcoming Editor letters, titled "Looking Up"… You can find his contact info on our About Us page, article submission information can be found here, and of course you can get notification of new articles either by signing up on the KL email list, by following the appropriate section in our forum, or connecting with KiteLife on Facebook.
In the meantime, I'll be continuing my efforts on all fronts, including finishing out my final term as AKA President (ends this October), as well as traveling to events as usual, producing more workshop / clinics, kite tutorials and videos, etc… Lots of new stuff actually just went online, if you haven't seen it already:
New Fun Kite Videos
New Outdoor Rev Kite Tutorials
There are also 5 additional new tutorials that are NOT on YouTube (Water Flying, Clockwork, Traveling Bicycle, Kite Walk and Rotational Drills), but all 28 Rev tutorials can be downloaded from anywhere with a paid subscription in HD, tablet or smart phone formats… Click here to browse them all.
To follow what I'm up to outside KiteLife, be sure to like my Facebook page, subscribe on YouTube and check out my new personal website… Lots more in the works, hoping for a very productive and exciting 2014. 😉
Thanks to all for your continued support and kindness, see you on the field!
John Barresi