I've been doing this since 1992, but had a particularly great outing at Kasai in Tokyo yesterday after not doing it for more than a year...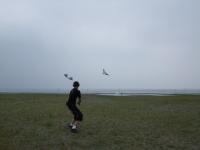 (photos courtesy of Iijima-san)
The dual line (a
Shiva
by CDC) is attached to my belt loops (steering with my waist), and the Rev (custom
B-Series
) in my hands.
Did a lot of stuff I'd never done before, to mention a few:
Simultanious spin landings.
Flying the dual around the stationary Rev (while rotating the Rev - matching a wing tip with the dual).
Docking/refueling (flying the dual into the "V" of the Rev), dual on slightly longer lines.
Anyway, just wanted to share... I hope it makes you want to try something new and crazy!