I really like my train of 13 Rainbow kites. I think these were my first dual-line kites. I first got a white one which I had a LOT of trouble flying. I added a three-pack (R-O-Y) and trained them with the white one and liked the flying characteristics so much that I got another 3-pack in G-B-V to add to the train. I met another Rainbow flier at Manistee in September of 1987 who had a 6-pack and we hooked both trains together and flew them all weekend. When I got home I ordered another 6-pack and trained them as V-B-G-Y-O-R-R-O-Y-G-B-V-W which is how they are today. As a 13-train they pull like crazy.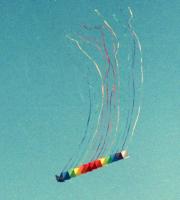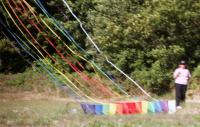 At some point I learned that the only way to land the train with any hope of a relaunch was to take them out to the edge of the wind and crash them on the leading edge just as they stalled. A hard pull on the top line would relaunch them with a quick sweep back into the wind.
I don't have a heavy frame for the lead kite, and I'm always pulling the train lines (200#) apart, so there is some work to be done before I can really say I have it tuned just right.